Ducati takes off with new shop at Fiumicino Airport, Rome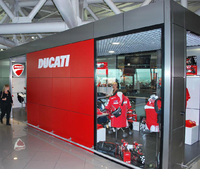 Ducati passion is cleared for take-off at Terminal 3 of Fiumicino airport, Rome as the latest Ducati shop officially opens its doors to the travelling public.

As an addition to the existing shop at Bologna airport, the new opening marks the beginning of a partnership between Ducati and airport retail specialist Meridian Duty Free. It also represents a key step in Ducati's sales strategy as this latest opening is the "pilot project" for a new retail program that both companies aim to extend to other European and non-European airports.

"I've always seen Ducati as an expression of creativity, innovation and technology," said Marco Passoni, CEO of Meridian Duty Free. "Without doubt, it is a prime example of classic Italian excellence. I'm proud and excited to have combined the huge potential of the Ducati brand with our own experience in this sector's new airport format and I'm convinced that the opening of this first shop at Fiumicino's International Leonardo da Vinci airport is just the first chapter of another long Ducati success story."

"The decision to open an airport retail format stems from the growing interest in the Ducati brand and the entire product range associated with it," said Lucio Attina, Director of Ducati Apparel & Brand Development. "For years, Ducati has been a committed global ambassador of the "made in Italy" concept of premium quality and so the decision to open this first shop in Italy's capital was inevitable. We feel sure this opening will be followed by many others, enabling us to offer the fast-growing community of Ducati fans and enthusiasts the chance to purchase apparel and other products. To ensure our customers enjoy a unique experience we've put our trust in a truly professional travel retail specialist, Meridian Duty Free."

The official opening was attended by representatives of Ducati and Meridian Duty Free as well as Aviation Manager, Elio Pistola, and Sales Manager, Dr. Marco Treggiari of Aeroporti Di Roma in addition to official representatives of Customs and Police.

This latest shop will be an outlet for products from the Ducati apparel collection and also those of numerous partners, such as Oakley and Puma, whose brands are already associated with the Italian motorcycle manufacturer. In celebration of the shop's opening, Ducati fans were treated to an appearance of Valentino Rossi's Desmosedici GP11 MotoGP bike, a display that attracted huge crowds of curious airport visitors.