FA Cup scores for St. Ann's Hospice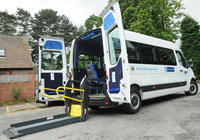 St. Ann's Hospice in Manchester has taken receipt of a brand new Renault Master Wheelchair Accessible Minibus as part of their care to around 3000 patients, relatives and carers in and around the Greater Manchester area.
The hospice, the largest in the north of England, celebrates its 40th Anniversary in 2011 of providing care to adults who are affected by life limiting illness.
The new minibus, donated by Manchester City Football Club, was sourced and built in a very short timescale of just three weeks by conversion and mobility specialists Stanford Coachworks Ltd.
The handover took place on 22nd June at St Ann's Hospice in Heald Green and was greeted by a large and excited audience. The event was attended by special guests including previous Manchester City football players Mike Summerbee and Paul Lake, City in the Community Managing Director Sarah Lynch, St Ann's Finance Director Liam McCarthy, Stanford Coachwork's Representatives David Hardacre and David Wiggins and was filmed by CityTV.
To the surprise of all who attended, the FA Cup was displayed alongside the bus, players and patients.
"When news of the minibus sponsorship came in from the Club we immediately thought of Stanford Coachworks because of our existing relationship with them and their excellent quality conversions" Liam commented.
St Ann's is a registered charity and provides its services free of charge. It covers a population of 1.2 million people and provides care on 3 sites as well as in people's own homes. The Hospice receives a third of its funding from local NHS Primary Care Trusts and has to raise the rest of the money itself which equates to £16,000 per day.
The Renault special purpose conversion has 6 passenger seats together with 3 wheelchair passengers, plus the driver, a specialist Ricon wheelchair lift and has external livery branded for St Ann's and Manchester City Football Club. Because of the large catchment area the Hospice serves the new accessible vehicle will be a real benefit.
"We previously supplied two buses to St. Ann's four years ago and as there is a current shortage of smaller vehicles with no MWB Peugeot Fiat or Citroen vehicles available at the time, I managed to locate a 3500LWB Renault Master," explained David of Stanford Coachworks.
"Slightly larger than the vehicle initially required, it does allow an additional wheelchair space in the minibus which the Hospice have said will be useful."
The minibus went into immediate service on the day of the handover and has been a welcome addition to the hospice's transport facility.
Sarah Lynch, Managing Director of CITC said: "We are delighted to have been able to support St Ann's, a hugely important North West Charity, particularly as they enter their 40th year. The bus will be of such great value to people in the local area, and we are proud to have been involved."
Stanford Coachworks are a conversion and mobility specialist founded in 1994. Their national distribution network supplies over 400 buses each year including luxury mini coaches, wheelchair accessible minibuses, ambulances, PTS's and high class limousines to many Charitable, private and public sectors, throughout the UK.
For more information, visit: stanfordcoachworks.co.uk