Fine dining on the menu at Victoria Walk, East Cowes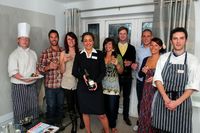 New home buyers, Paul Forster and fiancé Trudie Knight were treated to an evening of fine cuisine at the newly launched David Wilson Homes Victoria Walk showhome after winning a competition at the new homes development.
The pair shared the evening with four friends and were greeted with a champagne reception in the development's stylish new showhome.
The guests enjoyed a three course meal courtesy of Waitrose, East Cowes, with the menu devised and produced by one of the chefs from the nearby Albert Cottage Hotel.
An apprentice chef and waitress from HTP training, a leading training company which specialises in work based learning, were also on hand to ensure the evening ran smoothly.
Ian Wallace, managing director of David Wilson Homes said, "The evening was a great success and a fantastic opportunity for David Wilson Homes to give something back to one of its home buyers".
He added, "It's also been a great chance for us to collaborate with local businesses. Many thanks are due to Albert Cottage Hotel, HTP training and also Waitrose East Cowes for providing the fabulous food.''