Social housing 'eco experiment' in London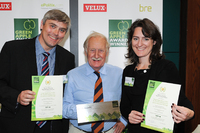 The Princedale Project, a social housing experiment comparing the energy efficiency of the UK's first certified Passivhaus retrofit with two other homes, has been presented with a Gold Green Apple Award for the Built Environment and Architectural Heritage by Trevor Baylis, inventor of the wind-up radio.
Octavia Housing alongside designers and builders Ryder Strategies, architects Paul Davis and Partners, energy consultants Eight Associates and project managers Green Tomato Energy are conducting an 'eco experiment' comparing the comfort and energy use of the UK's first certified Passivhaus retrofit with two other homes on the same street, which have been refurbished to lower levels of energy efficiency. All three homes are being monitored for a minimum of two years with the statistics due to be made publically available shortly.
As the main part of the experiment, the team transformed a 1850s terraced house in a Holland Park conservation area by refurbishing it to strict Passivhaus levels. This is a German low energy building standard that requires the home, amongst other criteria, to use less than 15kWh of energy to heat it per m2 per year, compared to the UK average of 130kWh. The home's CO2 emissions and energy consumption have been cut by an estimated 83% and 94% respectively, saving the tenants an estimated £910 a year on fuel bills.
The Green Apple Awards began in 1994 and have become established as the country's major recognition for environmental endeavor among companies, councils, communities and countries. The awards are organised by The Green Organisation, an independent, non-political, non-activist, non-profit environment group dedicated to recognising and promoting environmental best practice.
The Passivhaus comes equipped with over a dozen low energy innovations including the UK's first imitation sash triple glazed windows (required to meet the planning constraints of the conservation area), super wall insulation, solar thermal panels and a heat exchange system that recycles energy from waste air and water. The home has no gas boiler, radiators or conventional heating system and uses these innovations to keep the house at a comfortable temperature with a healthy air-flow all year round.
The project was in competition with over 100 other nominations for the accolade. The team was presented with the award by Trevor Baylis, inventor of the wind-up radio, at a ceremony at the University of Westminster on the 20 June 2011.
Judges for the Green Apple Awards are drawn from the Environment Agency, the Chartered Institute of Environmental Health, the Chartered Institution for Wastes Management, BRE and other independent bodies.
Octavia Housing are also developing a large mixed-tenure Passivhaus development in the capital, providing 30 affordable low energy homes for Londoners, completing in 2012.
Find out more about the retrofit project: greenoctavia.org.uk