Legendary Landie looks for loving home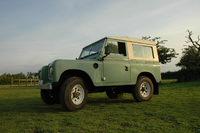 Land Rover lovingly owned by the late racing legend Gerry Marshall, and still sporting a series of 'optional extras' that signify his infectious enthusiasm for both cars and competition, will be auctioned at Historics Summer sale at Brooklands on Tuesday 19th July.

The 1972 Series III workhorse is affectionately festooned with stickers detailing Marshall's various memberships, interests and passions, such as the Aston Martin Owners Club, The British Racing Drivers Club and Historic Sports Car Club amongst others.

As a short wheel base variant, the more sporting looks of this 88(") County model aptly reflect Marshall's racing credentials – with 625 race wins across various formula, spanning 40 years – whilst the addition of a secondary, competition rev counter leave an indelible imprint of its previous owner.

Currently owned by a close family friend, this reliable Land Rover has spent its most recent years garaged, seeing only limited use outside of the annual MOT test, and offers in the region of £4,000 - £6,000 are anticipated for one of the most famous examples of this vehicle in existence.

For more information, and to attend the Historics at Brooklands auction on the afternoon of Tuesday July 19th, visit historics.co.uk. Entry by catalogue only, available prior to, or on the day of the auction.