Taste of summer for buyers at Hawthorn Meadows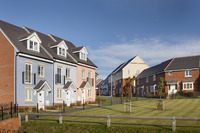 A beautiful setting and a host of summer delights are in-store for visitors to Hawthorn Meadows next month.
The sought-after Barratt development, situated in picturesque Whippingham on the Isle of Wight, is hosting an event to celebrate all that is wonderful about the warmer months of the year.
"We are planning a real taste of Summer for visitors to this delightful development on Saturday 23 July," said Barratt senior sales manager, Zak Long.
"There will be an assortment of seasonal culinary treats with a BBQ and plenty to keep the family entertained. And, of course, guests will have the chance to take a closer look at the outstanding selection of one, two, three and four bedroom homes on offer here. What better location to enjoy the warm and sunny weather than here in Whippingham?"
Hawthorn Meadows enjoys an enviable location, with rural surroundings close to the mooring site on the eastern edge of Cowes.
Current availability includes the three bedroom Maidstone design, priced from £189,995; the Kingsville from £232,995; and the four bedroom Gloucester home, priced from £279,995.
Whippingham has strong links with royalty. It is only a five-minute walk to Osborne House, Queen Victoria's summer home.
Nestling near the River Medina, Hawthorn Meadows offers the perfect retreat for yachting enthusiasts. There is easy access to the rest of the island and to the mainland.
For further details visit the sales office, open from 11am to 6pm daily.