Ducati launches on-line storefront just a click away from home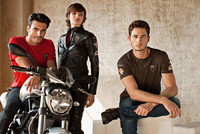 Iconic motorcycle brand, Ducati, rolls out a new online store that enables users to easily and securely purchase the latest apparel collections and a huge range of exclusive products created in partnerships with other top international brands.

Available at shop.ducati.com, the new digital storefront is part of the incredibly successful Ducati website, which already delivers the "Ducati experience" around the world 24/7. Latest MotoGP news from the Ducati Team, events and information of the latest range of models, apparel and accessories is now further enhanced with the added opportunity to shop online from the comfort of home.

The keystones of the new Ducati e-commerce are innovation, technology and security and combine perfectly to provide a multi-lingual, multi-currency platform with secure payment services. Transactions, personal data and credit card information are protected by the most technologically advanced coding systems (SSL) with the VeriSign certificate further ensuring the highest possible levels of protection available online.

Accessible from any online computer or mobile device, shop.ducati.com enables easy research and instant purchase and a product information experience so detailed that it virtually allows users to "touch" before buying. The store accepts all major payment methods from credit cards and PayPal to regular bank transfers and keeps users updated with a fully immersing Ducati dedicated newsletter.

Ducati now moves even closer to its brand-passionate owners and fan base with a store channel available in almost every country in which Ducati motorcycles are sold. From Australia and Japan to China, India and Europe, users are now just a click away from purchasing directly from home on their own country website.

Visit ducatiuk.com to view the UK online store.