Chevrolet keeps the UK buzzing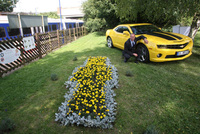 Chevrolet dealerships across the UK have been veritable hives of activity in 2011 with the launches of the award-winning Orlando MPV, brand-new Captiva SUV and the upcoming Cruze 5-door. But now the activity has turned to a hive of an entirely different sort.

Working in collaboration with Chiltern Railways, Chevrolet UK has pledged their support to the bumblebee population across the UK by sponsoring a flowerbed at Stoke Mandeville Railway Station through the Bumble Bedzz project.

Mark Terry, Managing Director of Chevrolet UK was on hand to celebrate the sponsorship and officially open the garden and brought along with him a very special guest, the iconic yellow and black Chevrolet Camaro.

The Chevrolet Camaro is set to arrive in showrooms in the UK in early 2012 and will be available from £34,995 on-the-road. The American muscle car is powered by a 6.2-litre V8 engine and suspension that has been fine-tuned for European roads. All UK versions of the Camaro will be left-hand-drive only and will come complete with the top of the range specifications including, 20-inch alloy wheels, Brembo performance brakes, full leather upholstery with a six-way power adjustable driver's seat, a Boston Acoustics nine-speaker audio system, Bluetooth and rear parking sensors. A choice of premium paint colours, bonnet stripes, interior trim accents, a sunroof, polished alloy wheels and automatic transmission, will also be available for an extra £1,500.

The Bumble Bedzz are bee-friendly flower beds which have been created in areas such as location railway stations to try and encourage people to plant their own beds and in doing so boost the bumblebee population. The Bumble Bedzz are the brain child of Jim Webster, owner of the locally owned and family run business, Bees Knees, a pest control supplier.

Chevrolet's Bumble Bed features flowers, including Lavender, Rosemary, Thyme and Buddleia, in the shape of a Chevrolet's iconic bowtie.

"The bumble bee is as much of an icon for the British countryside as the Camaro is for Chevrolet," said Mark Terry. "It's fair to say that they both cause quite a buzz. We're delighted to be involved in such an innovative and worthwhile local initiative"

Chad Collins, General Manager South of Chiltern Railways said: "It's great to be involved in a project that not only helps and educates about the bumblebee, but also enhances our station environment. We're delighted to be working with Bees Knees on their 'bumble bedzz' project and also with Chevrolet who have kindly sponsored this bed at Stoke Mandeville."

Each Bumble Bed is accompanied by an information boards to educate the public about the bumblebee population in the UK, highlighting they are an endangered species and how important they are for the environment. There are also fun packs available for children at the participating station.