Stay entertained with a Rosen this summer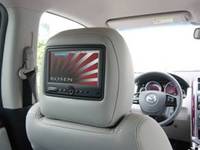 2011 could be another year for the Great British 'staycation', and while there is much to consider while preparing for a long holiday drive, the first question springing to most drivers' minds will be, 'How do I keep the kids occupied?'

Cobra has the perfect solution to distract kids from asking that dreaded question, 'Are we nearly there yet Dad?!' in the RosenAV7500Dual DVD Headrest System. The company is the exclusive distributor of Rosen products in the UK.

An estimated 17 million Brits are looking to stay in the UK for the summer holidays, so additional care needs to be taken on roads that will be experiencing heavier traffic than normal and extended driving times.

Planning for a holiday can be a stressful time for parents; thinking ahead, ensuring the vehicle is safe and secure for the planned journey, including correctly inflated tyres and securing the luggage with a safety net, so the last thing they want to worry about is how to keep the kids entertained on the long journey.

Available to fit to any age, make or model of car, the Rosen system involves replacing your current front seat headrests with new matching ones, complete with 7" colour screens installed. Combine that with two fold-flat sets of wireless headphones, two game controllers and a system remote control, and the kids have their very own in car entertainment system.

Whether DVDs or games are their thing or they simply want to listen to their latest JLS CD, the Rosen will become a firm family friend. Music can easily be played from iPods and MP3 devices via an AUX input.

And the good news doesn't stop there, as the system comes complete with 25 video games, and simply plug your camera into the USB port to view a JPEG photo slide show of your holiday snaps while you are away.

Parents don't even have to worry about the kids fighting over DVDs, games or music, as each headrest has its own entertainment system, with the ability to wirelessly share information with the other.

Cobra also supplies the new Rosen AV7700 Seatback Dual-DVD System, developed specifically for cars with active headrests, as well as the Rosen Z8 8.5" and Z10 10.2" Roof Mount DVD system, which can be factory fitted to most new cars. Rosen products are available from Cobra dealers nationwide. To find your nearest dealer, visit cobravehiclesecurity.co.uk.