2,000,000th Panda produced at Fiat Poland Factory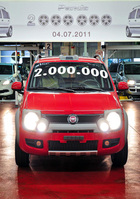 Significant historical milestones for the Panda, and the Fiat Auto Poland plant in Tychy where it is produced, have just been reached as the 2,000,000th Panda rolled off the production line. The specific car was a Panda Cross version finished in Pasodoble Red and powered by the 75bhp 1.3 MultiJet engine.

Launched in 2003 and marketed in 76 countries worldwide, the second series of the Fiat Panda is more than a city car. It is a genuine platform on which Fiat Automobiles has created an entire family of cars with the technology and attention to detail of a higher category.

This strategy has created an undisputed and growing leadership in its market segment. In the first six months of 2011, the Fiat Panda was the car with the highest sales in segment A both in Italy, with a 35.3% per cent share, and in Europe (EU 27+EFTA), with a 16.6% per cent share during the period January – May. The fact that almost half of the Pandas produced were sold abroad is proof of how much the model is appreciated around the world. This market success was also confirmed by its numerous awards, including the prestigious title of Car of the Year 2004.

Recently upgraded, the Fiat Panda range includes engines (petrol and diesel) with Euro 5 type-approval and alternative engines (methane and LPG), as well as versions with front-wheel or four-wheel drive, the latter further enhanced by an Electronic Locking Differential in combination with the ESP (Electronic Stability Program). In addition, customers can choose between different versions (Actual, Active, MyLife, Dynamic, Mamy, Emotion, Climbing and Cross) and 15 body colours.

Operative since October 1992, the Fiat Auto Poland factory in Tychy has to date produced 6.2 million vehicles. It is one of the most modern plants in the worldwide automotive industry, as shown by its World Class Manufacturing Silver Level certificate. So it is not by chance that the Fiat Panda achieved first place (city car category) in the recent reliability league table published by ADAC (German Automobile Club).

Tychy's prestigious volume target marks a further step in the long history of a model that last year celebrated its 30th anniversary and more than six million models sold worldwide. The Panda model is part of Fiat's heritage, which represented a new and unmistakable way of seeing the everyday relationship with the car in automotive history and Italian society. That's why, over time, the Panda has become almost a brand in itself, with strong emotional value, to which Italian and European drivers are always profoundly attached.