Méribel - a home for all seasons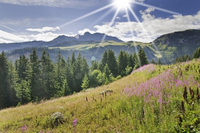 Méribel, best known for being a top winter ski destination, transforms into a totally different kind of playground in the summer months, providing intense scenery covered in brightly coloured flowers and rich green trees all lit up by the sparkling sunshine. Yet remarkably, this Alpine hotspot remains a relatively undiscovered summertime land with many being unaware of the vast and varied outdoor activities that Méribel has to offer.
Situated in the middle of the Les Trois Vallées, a popular ski region in the Tarentaise Valley, near the town of Moutiers, Méribel's stunning landscape provides the perfect environment for a whole host of summertime activities including hiking, mountain-biking, golf, climbing, parapenting, white-water rafting, canyoning, horse riding, tennis, glacier walking and hot air ballooning to name but a few.
Sitting on the edge of the 140,000 acre Vanoise National Park, founded to protect the rich eco system of the area and close to The Tuéda Nature Reserve, Méribel serves as a hikers paradise where levels reach up to 3,855m and include 500km of maintained and marked trails, suitable for the entire family to discover Méribel's natural unspoiled beauty and 100 species of flora and fauna.
There are also opportunities to discover Méribel's hidden wonders via an extensive network of cycling tracks snaking through the valley while professionals and amateurs alike can partake in the yearly Three Valleys Mountain Bike competition, completing circuits around the Three Valleys at various levels of difficulty with the help of the ski lifts. And for cycling fanatics, there is also a chance to catch a possible glimpse of the famous Tour de France cycling tournament.
If it's golf you're after, Méribel's 18 hole course is perhaps one of the most handsome courses in the Alps. Developed by some of the world's most famous golf course designers, Méribel hosts a three day Drive des Groumets Golf Competition each year combining golfing on the resort's mountain course with gourmet wining and dining.
In addition to the outdoor activities, Méribel plays host to more relaxed goings-on such as concerts like Music' Air, a one week event in July playing jazz, folk and rock music as well as street performances including the Magic Méribel event offering a week of illusions and workshops where you can learn circus skills and magic tricks.
By offering a myriad of activities and events to occupy even the most demanding of visitors it is clear that the picture-perfect destination of Méribel is destined to lure in visitors throughout the year, however the beautiful ski resort will be reverting back to its famous winter roots seeing Méribel host one of the highlights of the Alpine ski calendar - the World Cup finals in 2014/15, attracting vast numbers of winter sports fans from across the globe.
Charlie Williams, Business Development Manager of France's leading eco-friendly leaseback property developer, Terresens, comments, "Certainly, internationally renowned events will help boost Méribel's profile, coupled with the fact that France remained the world's most popular travel destination in terms of international arrivals last year according to The UN World Tourism Organisation (UNWTO) seeing 76.8 million tourists arrive in 2010, indicating that France remains a tourism force to be reckoned with.
"It is no surprise that France remains the most sought after European holiday destination for all seasons, even seeing high profile celebs such as Harry Potter star Emma Watson recently investing in a Méribel ski chalet. Buyers are spending more, particularly when it comes to the top end of the market and in my opinion, those looking to buy a beautiful French property to enjoy both in the sun and on the snow can do no better than Méribel."
According to Holiday Lettings, which represents around 5,700 properties in France, bookings up until May this year for France were up by 11% with a growing number of enquiries coming from across Europe while sales of French properties to international buyers increased by 21% in 2010 from 42,300 in 2009 to 51,200 last year according to the latest Living Abroad survey by French bank BNP Paribas.
As the only new build development in Méribel, Terresens are providing a boutique luxury development in Chemin de la Chapelle in the centre of Méribel, Les Trois Vallées, costing from approximately €700,000.
Consisting of 8 units - 2 chalets and 6 freehold apartments where the layout and finishings can be custom designed to suite any taste, the Méribel development will be situated close to a wide range of facilities including a wellness and fitness centre, Olympic ice rink and swimming pool and a number of restaurants and bars to choose from including self-service mountain eateries and traditional restaurants offering local dishes.
For more information on purchasing a freehold home for all seasons in Méribel, France, visit terresensleaseback.com.