Vauxhall lets customers flex their finance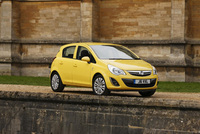 Vauxhall has launched a unique-in-industry finance package which allows customers to tailor their finance to suit their budgets, putting them in the very best car they can afford.

All buyers have to do is choose and spec their new model at vauxhall.co.uk, decide on a deposit from zero upwards (Vauxhall will contribute at least £500) and select any term between 24 and 60 months. The website's easy-to-use Flexible Finance Calculator means you just enter a deposit then adjust the slider until the monthly payment figure and the payback duration are right for you. Customers also benefit from zero per cent APR on the offer which runs until 30th September.

"We are delighted to introduce this highly competitive finance offer," said Peter Hope, Vauxhall's Marketing Director. "Flexible Finance allows buyers to drive away a new Vauxhall on a bespoke, flexible monthly payment programme of their choice with the knowledge that they've bought the best car to suit their budget."

Flexible Finance is the perfect complement to Vauxhall Lifetime Warranty, another industry-first from the Luton company. VLW offers owners the reassurance of a comprehensive warranty that could last the lifetime of the vehicle. It applies to the first owner of any Vauxhall and continues throughout the life of the car until it reaches 100,000 miles.

For further information and terms and conditions on Vauxhall's Lifetime Warranty, visit vauxhall.co.uk/warranty.