Your look-out could win caravan park photo challenge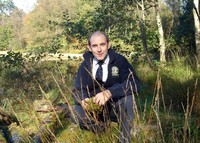 Touring visitors to UK holiday parks are being invited to reveal the world from their window in a new photography challenge - and what they see could also capture them a holiday prize.
The aim of the free-to-enter competition, which runs until the end of October 2011, is to find the most striking scenes taken no more than five metres from the visitor's caravan or motorhome on any park.
But according to organiser and Lake District park owner Henry Wild, it won't necessarily be the prettiest pictures which will click with judges.
Imaginative images of all sorts will be welcome - from the wacky to the wondrous - so long as the scene is something which is capable of being glimpsed from the unit.
The most striking will win a luxury holiday prize at Skelwith Fold Caravan Park in Ambleside.
"The great point about parks is that they allow you to look out on a world which is predominantly green instead of grey - and where people are focussed on enjoying themselves," said Henry.
"We want to capture something of the spirit of this in a range of pictures which provide the greatest possible contrast to the type of views most of us see from our windows at home.
"It could be a stunning seascape, a bunch of kids having fun, or a badger taking a moonlight stroll - just a moment of holiday actuality that's likely to stay in your memory," he added.
As well as running Skelwith Fold, Henry is a member of the management board of the British Holiday and Home Parks Association which represents more than 3000 UK holiday parks.
He hopes the competition will produce a bumper crop of images on the public website Flickr which will show the great diversity of all the park association's members.
Parks, said Henry, range from small farm-based sites to major centres with family entertainment - and the Flickr library will help show the breadth of their appeal.
"Caravan owners enjoy some of the most privileged of all views, be it a red deer strolling past the window, a fiery autumn sunset, or just a scene of perfect pastoral serenity," said Henry.
"We're looking for images from any park which simply provide one person's view of the world outside their window, and sum up what makes caravanning special for them.
To upload a picture for the competition, log onto Skelwith Fold's website (skelwithfold.co.uk), mouse on "Gallery", click the tab to "Flickr sites", and follow the link to "Your Vista".
The competition is open to all caravan, motorhome and camping visitors to parks in the UK.