Supermodel Fluvia Lacerda makes Cheshire hotel stay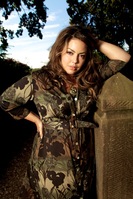 During her three-day visit to the UK last week for an interview and photo shoot with Beautiful Magazine, Brazilian plus supermodel Fluvia Lacerda chose leading Cheshire hotel, the Grosvenor Pulford Hotel & Spa as her base.
Chosen for its superb facilities, the beautiful, convenient location and outstanding customer service, Fluvia made the 4-star Grosvenor Pulford – owned and operated by Nelson Hotels – her haven for the UK trip. Fluvia, who loves to indulge in spas, settled on the hotel after hearing about the venue's renowned Spa by Kasia and head chef Leigh Myer's reputation for first class cuisine.
Fluvia, who is an icon both in her native Brazil and across the world, is instantly recognisable as the only Brazilian supermodel working internationally. With her 5'8", size 18 figure, she exudes confidence and continues to break down barriers for plus size models.
With many accolades to her name including being the only plus size model ever to appear in Playboy and recently being crowned with the Full Figure Fashion Week Award for Best Plus Commercial Print Model of the Year, Fluvia's success continues to flourish.
Recently chosen as the face of Australian brand City Chic for its US launch and representing plus size clothing brands around the world from Eliza Parker and Sydney's closet in the US, to Spanish clothing brand Biluzi, and Brazilian brand Zank, Fluvia has appeared in numerous leading magazines including Vogue Brazil, Elle Brazil, Glamour, Plus Model Magazine and Vogue Curvy.
Fluvia's stay at the Grosvenor Pulford Hotel & Spa comes hot on the heels of the hotel's crowning as the Best Wedding Venue for Cheshire 2011.
Lucy Nelson, sales and marketing director of Nelson Hotels, comments: "We are absolutely delighted that Fluvia chose the Grosvenor Pulford Hotel & Spa as her base during her stay in the UK. It was an honour and pleasure to welcome such a prominent figure from the international fashion scene. We firmly believe, as does Fluvia, in the importance for women to feel good about themselves, no matter what their size or shape. Spa by Kasia is all about helping people feel great.
"Never before has the debate of plus size versus super skinny been more at the forefront of fashion than it is today, with the industry as a whole being encouraged to work with larger sized models and reduce the over representation of thin women in such an influential industry. We were happy to support Fluvia in her quest to fly the flag for women everywhere."