All-inclusive packages at Sheraton Maldives Resort & Spa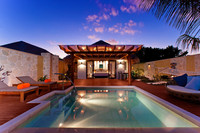 Sheraton Maldives Full Moon Resort & Spa has introduced an all-inclusive "Ocean Plus" package starting from US$520++ per person, per night through December 23, 2012.
Many travellers generally believe they are getting a great deal on their holiday, but in some cases end up spending several hundred more in hidden costs on every trip. The all new package, designed to avoid any financial shocks at the end of your stay, covers all food, transfers, equipment rental as well as some indulgent extras.
Imagine enjoying spacious, luxury accommodations (220sqm) whilst on a worry-free holiday. All the elements for a perfect stay at the Sheraton Maldives have been thought of.
The all-inclusive "Ocean Plus" package is valid in the new Ocean Villas and includes the following:
• All pouring brands of alcohol, beer and liqueurs at all bars and restaurants
• Mini Bar – restocked once daily
• Daily breakfast at Feast restaurant or In–Villa Dining
• Choice of lunch venues (a la carte or buffet): Feast, Sand Coast or In-Villa Dining
• Dinner in any of the restaurants (a la carte or buffet): Feast, Sand Coast, Baan Thai, Sea Salt or In-Villa Dining
• Choice of one 50-minute Shine Signature Massage at Shine Spa for Sheraton or one Water Sports excursion (Dolphin Sunset Cruise, Reef Snorkeling or Sunset Fishing) per person, per day
• Complimentary internet access in the Ocean Villas or Link@Sheraton
Located on the eastern side of the island; the private, contemporary design of the 20 Ocean Villas are highlighted by uninterrupted views of the Indian Ocean, spacious outdoor living space, including plunge pool, dining area, hammock, outdoor shower and a large garden seating area. Interiors include the Sheraton Sweet Sleeper bed, a large bathroom with stand-alone tub, and walk in closet.
To book your "Ocean Plus" package at Sheraton Maldives Full Moon Resort & Spa, visit: sheraton.com/maldives