Fortnights falter as Britons favour flash breaks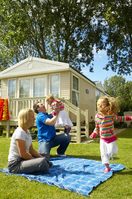 More Britons are swapping fortnight holidays for one or more "flash breaks" this year, according to major parks operator Park Holidays UK.
The strength of the new trend has prompted the group to convert many of its two-week stays to three, four and seven day breaks during this summer's school holidays.
"Quickie breaks, often booked at the last minute, have been gaining ground in recent years - but this season the family fortnight really is being kicked into touch," says director Tony Clish.
"For that reason, we have decided to convert thousands of longer holidays into bite-size chunks which are more easily affordable and can be taken up instantly by customers," he added.
To reflect the changes, Park Holidays UK has completely revised its website to put the emphasis on short breaks during six-week school holidays.
It now features three and four day breaks from just £149.00 and week-long stays from £298.00.
The cost includes family accommodation in a caravan holiday home, use of all the park's sports and leisure facilities, and free passes to the professional nightly entertainment.
"Having plenty to do just yards from your front door is the key to a successful flash-break," said Tony.
"Youngsters, if they are old enough, can go off and enjoy all their favourite activities, and parents can concentrate on relaxing without having to chauffeur everyone around," he commented.
Park Holidays UK has 22 seaside parks in Southern England, from Devon to Suffolk - and new short-break offers are being added hourly to the thousands already posted on its website.
The company also has a help-line to give advice on locations and current deals.
For more information, visit: ParkHolidaysUK.com