Chevrolet Cruze hatchback launched at Donington Park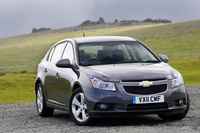 While Donington Park successfully hosted the British round of the World Touring Car Championship (WTCC) just last weekend, at the very same time UK motoring journalists converged on the Leicestershire venue, as Chevrolet launched their all-new Cruze hatchback, utilising the flowing country roads around Donington to evaluate the new car.

As Chevrolet strengthened their grip on another World Championship title on track, with a double win from Yvan Muller, UK journalists got to grips with the all-new Chevrolet Cruze hatchback, putting the car through its paces on the road, as well as participating in a fun rally inspired event on Donington Park's specially prepared gravel rally stage.

Chevrolet's Craig Cheetham explained: "The timing and location was perfect for us to launch the new Cruze hatchback. With our WTCC team in attendance providing hospitality for press, we were able to make use of the great facilities at Donington before allowing press the opportunity to test the new car on the local roads. With a great mix of rural and urban routes right on Donington's doorstep we were able to offer press an all-encompassing opportunity to try our new car, throwing in a bit of fun on a specially prepared rally stage too. A great event for all who attended."

The Chevrolet Cruze hatchback is due to go on-sale later this month, with prices starting at £13,995. For more information visit chevrolet.co.uk.