Join Suzuki at Brands Hatch BSB weekend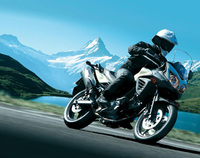 Suzuki GB is delighted to welcome fans to their exhibition stand at the Brands Hatch round of the British Superbike Championship on August 7th and 8th, as the Japanese manufacturer showcases the latest models in the range with some very special race bikes and riders making appearances too.

With the latest 2011 models on display, from the class-leading GSX-R600 to the highly praised naked GSR750, Suzuki is pleased to bring a UK first to Brands Hatch with the new 2012 V-Strom 650 ABS making its public debut, before it reaches dealers some two-weeks later.

As well as a selection of the very latest models on display, Suzuki is also pleased to bring the 2004 Rizla Suzuki GSX-R1000 as ridden by three times British Superbike Champion John Reynolds and the 2011 Relentless Suzuki by TAS GSX-R1000 as ridden by Guy Martin, to his best TT finish with a podium and which he won the recent Southern 100 Senior Race.

If this isn't enough, John Reynolds will be joined by Relentless Suzuki by TAS riders Alastair Seeley and Josh Brookes, at selected times through the weekend to chat with fans and sign autographs at the stand.

Suzuki GB look forward to seeing all fans and enthusiasts over the weekend.