First buyers move in at Lysaght Village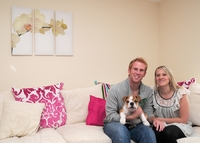 Ideal for a young couple – and with enough room to start a family. That's what Alex Eagle and Bethany Rees thought when they purchased their brand new Wessex home at Taylor Wimpey's Lysaght Village in Newport.
The couple moved in during April and are delighted with their new three bedroom home.
Alex said: "We wanted three bedrooms, we wanted space and we wanted something which didn't need totally redecorating and that's what we've got here at Lysaght Village."
The couple had a deposit and looked around Newport for a home they liked, but to no avail.
Alex said: "Bethany and I have been together for seven years. We were both living with our parents and so we had managed to save a deposit. But when we decided to buy together we looked round on the open market and there really was nothing that suited us. All we could afford were properties which needed huge renovation jobs. We thought why spend all that money on doing up a property when we could buy one that was ready to move in. And then we could spend our money on the nice bits like new sofas and pictures and not a total re-plastering job."
Alex, 25, and Bethany, 24, took advantage of the Deposit Match initiative from Taylor Wimpey. Through the scheme purchasers simply pay a five per cent deposit to secure the property, and Taylor Wimpey gifts five per cent and then loans a further 10 per cent interest free over ten years.
Alex said: "It was really simple. It meant we could buy a £157,000 home for £125,000. A brand new house for that money makes it very affordable.
"And because we bought off plan we could effectively design our own home. We were able to add touches like choosing the tiles for the kitchen and bathrooms but also practical details like where the TV sockets were. So I've had one put in the third bedroom and I'm hoping to turn it into a games room once we're totally unpacked.
"It was really easy to do. We used the showhome as an example and just thought about how we'd live in the house. And Pat and Gill in the office were both so helpful, they really made the whole thing go very smoothly."
Now Alex and Bethany are really enjoying their first home. Alex said; "We're at the really house proud stage. Everyone removes their shoes when they visit because of our clean cream carpet. We've just bought some patio slabs for the back garden ready for the barbecue season. And one day the third bedroom may stop being a games room and become a nursery. Who knows."
Lysaght Village is a collection of one, two, three and four bedroom homes within close proximity to the excellent range of shops, restaurants, attractions, entertainment and culture that can be found in Newport city centre. Commuters can benefit from easy access to the M4, in addition to the convenient location of the city's railway station.
For further information on Lysaght Village and the range of homes available, please visit the show complex on Corporation Road.