Swift move for first residents at Victoria Walk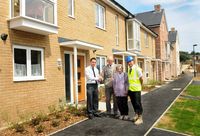 For John and Quennie Greetham, finding a new home close to local amenities was a top priority and after looking round the David Wilson Homes Victoria Walk development in East Cowes the pair knew instantly that it offered them the perfect fit.
John and Quennie are among the first residents to move into the new development after making an offer after their first visit to the showhome.
Having been looking to relocate for some time John and Tuennie decided that for health reasons, moving somewhere more centrally located was a key factor.
"We both wanted to live somewhere closer to town to make it easier for us to do day to day things" said John, "The development is in the perfect location and we knew it was right for us from just looking at the showhome".
Ian Wallace, managing director of David Wilson Homes said he was delighted to be welcoming the first residents to Victoria Walk which is being built in partnership between David Wilson Homes, the Homes and Communities Agency (HCA) and SEEDA.
"We're delighted with the popularity of these new homes, all of which will be built to meet Level 4 of the Code for Sustainable Homes, Lifetime Homes and Building for Life (Gold Standard),'' said Mr Wallace.
He said that these homes will be more efficient than those built to the 2006 Building Regulations standards, benefiting all of those involved in the construction and residents.
All homes at Victoria Walk will be 'Lifetime Homes' which are normal homes but incorporate certain design criteria. Each feature adds to the comfort and convenience of the home and supports the changing needs to individuals and families throughout their lives.
In addition, David Wilson Homes is proud that Victoria Walk will be constructed using a variety of materials from the Island, performed by either locals as part of its dedicated training Academy or recruited as a local supplier to the leading housebuilder.
The HCA has invested more than £8.2m to the assist with the regeneration of East Cowes which will include the delivery of approximately 450 new homes, a third of which will be affordable.
Kevin Bourner, HCA head of area, added: "The HCA team has worked closely with partners for a number of years to progress the regeneration of East Cowes. I am pleased that the first phase of housing at Victoria Walk is progressing so well and that this high quality development is making a difference to the lives of local people. I look forward to seeing more residents move into their new homes as Victoria Walk moves towards completion."
Once complete Victoria Walk will offer one, two, three and four bedroom homes offering something to suit every buyer from first time buyers and couples to growing and established families.
For John and Quennie location was not the only priority when looking to relocate. The couple wanted their move to be as swift and as hassle free as possible, so decided to use the David Wilson Homes Movemaker scheme.
Designed to make moving simpler, David Wilson Homes instructs an estate agent on your behalf to sell your home and manage all the valuations, viewings, liaison and phone calls. The popular scheme alleviates some of the uncertainties associated with moving home and helps to make the process as straightforward as possible. All a buyer then needs to do is agree the asking price and check the sales particulars are correct.
"David Wilson Homes has really gone above and beyond in making our move easy,'' John continued, "The scheme means we can just look forward to settling into our new home and being one of the first to arrive at the development!"
Victoria Walk offers beautiful, spacious, modern living for every buyer providing sought after homes in a great location.
The nearby yachting town of Cowes offers a wide variety of amenities including schools, shops, pubs and restaurants. Near to the River Medina and a local mooring site, Victoria's Walk lies on the eastern edge of Cowes and offers the perfect retreat for any buyer. There is easy access to the rest of the island and to the mainland via the excellent ferry links.
For further details and information and to register your interest in Victoria Walk, log onto: dwh.co.uk