Name your price, says top parks group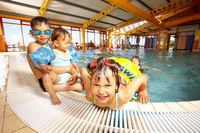 Families gambling that holiday prices will tumble even further this summer can end their nail-biting wait now - by simply naming the discount they want.
Major parks group Park Holidays UK says it is inviting offers on any of the thousands of deals currently posted on its website in the period from 05 to 22 August.
Even holidays already reduced in price for the coming weeks can be bargained down by calling a special "haggle hotline" with what the person is prepared to pay.
If the offer is accepted, the deal will be valid for 10 minutes only while the booking is made.
Park Holidays UK owns 25 seaside parks in Southern England from Devon to Suffolk, and company director Tony Clish says booking numbers are currently well up on last year's figures:
"Even better, we invested heavily in extra accommodation on our parks for 2011 which puts us in the unique position of being able to take last-minute offers.
"So if a family has a budget we're not quite matching on the holiday they fancy, they can just call and tell us what they are prepared to pay.
"We're going to try and say yes to as many offers as possible, and the deal will then be available to that person while they are on the phone. If not taken up, the price returns to normal - and will have to be negotiated again with no guarantee that the original deal will stand.
"We will even accept offers up to the day before the holiday begins," added Tony.
He assures customers that every reasonable offer will be considered - and if a deal can't be struck, staff will do everything possible to find an alternative holiday within the family's budget.
Deals currently on Park Holiday UK's website - and which can still be talked down - include three and four day breaks from just £201.00, and week-long stays from £320.00.
The cost includes family accommodation in a caravan holiday home, use of all the park's sports and leisure facilities, and free passes to the professional nightly entertainment.
"For anyone still playing the waiting game, this really is the time to get off the fence and onto the phone," said Tony.
"We're not worried that our lines will be clogged with people making impossibly low offers. Our customers want good value for money, and if a few more pounds off the price will clinch the deal, we'll happily accommodate them!" he added.
Check the holiday you want to bid on by visiting: ParkHolidaysUK.com