Go2Tanzania offers savings on safaris in Tanzania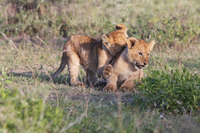 The very idea of safari conjures up all sorts of magical thoughts. We understand that for most a safari is a once is a lifetime adventure evoking great excitement and expectation.
It is impossible in a wilderness area in Tanzania to look upwards and not see birds. Tanzania offers amazing birding opportunities to the keen amateur or the ornithological expert.
Upwards of 1100 recorded bird species, it is not only the number but the fact that much of the areas are now protected encompassing some of the world's largest and most pristine wildlife and birding habitats.
A staggering 30% of total landmass in Tanzania is given over to conversation, however, protected areas like national parks are important areas for wildlife, but if the land surrounding them is not properly conserved, they risk becoming isolated and unviable for wildlife.
Lake Manyara National Park and Tarangire National Park are 40 kilometers apart, the area between the two parks is un protected.
Approximately ten years ago, the migration route connecting the two parks began to disappear. The natural habitat became fragmented, thus threatening the corridor route.
To help address the land threats, The Tanzania Land Conservation Trust was set up to manage such areas to help protect the needs of pastoral communities as well as to preserve the integrity of these areas for wildlife conservation.
Now the area is successfully managed there is a 35,000 acre conservancy offering a superb wilderness with an eclectic cultural, wildlife and birding mix for the active and inquisitive visitor.
Go2Tanzania offers a safari to incorporate Manyara Ranch with the world famous Ngorongoro and Serengeti, from just £3,120.00 per person (a saving of £519). This safari is available from 1 September and includes scheduled flights from London Heathrow (on Kenya Airways), all game activities in open sided vehicles at the ranch a private safari vehicle for your use to visit Serengeti and Ngorongoro, plus all concession and national park fees.

For more information, visit go2tanzania.co.uk.