Luxury Lake District inn offers new accommodation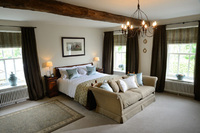 Five new luxury rooms have been unveiled at The Plough, Lupton – the exciting new development from Punch Bowl Inns, the company behind the award winning Punch Bowl Inn at Crosthwaite, near Kendal in the heart of the Lake District.
The five luxury rooms have all been individually and painstakingly designed and each one has its own very special character. Named after Lupton's previous landowners dating back to the Domesday survey of 1058, Torsin, Harrington, Musgrave, Redman and Bellingham offer a peaceful home away from home with thoughtful touches including top quality local toiletries from The Bath House in Sedbergh, cosy bathrobes and bottled mineral water.
Torsin is the showcase suite boasting a separate sitting area, a huge super-king sleigh bed and a comfortable sofa decked with cushions. The bathroom is decadent with a grand feature mirror that stretches over dual sinks, as well as a double monsoon effect shower and a fabulous under lit roll top bath. Underfloor heating will ensure cosiness is maintained in the cool winter months and the original oak beams and Roberts radio add a special hint of old-style glamour.
The Plough, which dates back to at least 1851, re-opened its doors as an inn and restaurant in June 2010 after a complete refurbishment by its new owners. The addition of the new classic rooms and suites is the latest in an exciting, planned development, which will see a sixth suite introduced in 2012 accommodating the entire second floor of the building.
The Plough is aiming to follow in the footsteps of sister inn, The Punch Bowl, which has claimed an array of accolades in recent years including 'Michelin Pub of the Year' in 2009 and 'Cumbrian Inn of the Year' in the 2010 Good Hotel Guide.
The Punch Bowl has been instrumental in helping change the perception of places to stay in the Lake District from the old-fashioned and somewhat twee to contemporary, luxurious accommodation to rival that found in some of the UK's most cosmopolitan cities.
Room rates start from £95 per night including continental breakfast and more information is available at theploughatlupton.co.uk.