Family get a home of their own at a price they can afford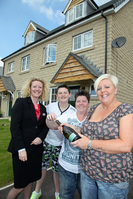 After years of renting, Jenny and Sanchia Robertshaw have finally 'escaped' to a home of their own in Halifax.
HomeBuy Direct enabled the couple to save almost a third off the initial price of a brand new Redrow home at Wheatley Chase. The valuable help is still available and the pair, who live with son Alex, 12, are keen for other first time buyers to benefit from the scheme.
"We feel really lucky to have been able to take advantage of HomeBuy Direct as it means that our mortgage repayments are almost the same as the rent we were paying, but we now own our very own home that's built to a really high specification," Jenny explained.
"We'd been renting for quite a while and didn't think we could afford to save for a deposit. We were coming to the end our lease when we heard that HomeBuy Direct was available at Wheatley Chase. We loved the layout and the quality finish of the homes straight away and knew it was where we wanted to live as we have family nearby."
They opted for a three-bedroom 'Kenilworth' style property set out over three floors.
"We've lived in three storey homes before but this is by far the best in terms of the layout. With the combined kitchen and dining room at the front and the separate living room you can enjoy a sense of privacy as you relax," Jenny added.
"The integrated kitchen appliances are great as we didn't need to worry about having them installed, which made things easier. The whole house is well designed, with two bedrooms, a study and the family bathroom on the first floor and the master bedroom and en-suite on the top floor."
A three-bedroom 'Kenilworth' similar to the Robertshaws' is available on the open market at £167,999, or just £117,599 with HomeBuy Direct.
Reducing the overall size of the mortgage required and, more importantly, the loan-to-value ratio (LTV) means lenders generally ask for a much smaller deposit.
The balance comes in the shape of an equity loan jointly funded by Redrow and the government, which is interest free for the first five years.
The scheme is designed to help those who would otherwise be priced out of the property ladder including first time buyers and potentially growing families in need of extra space or someone who is starting out after a chance of circumstances such as divorce.
To be eligible for the help, customers must have an annual household income of less than £60,000.
Patsy Aicken, sales director for Redrow Homes (Yorkshire), commented: "Buying a home can seem daunting, particularly if it's your first but our friendly, experienced sales team are here to help. They will guide customers through the home buying process, making it as simple and straight forward as possible.
"To help purchasers understand how HomeBuy Direct works we've produced an easy to follow video guide to the scheme that can be viewed via our broadband television channel Redrow.TV."
Located in Keighley Road, Wheatley Chase is just a mile from Halifax town centre with good local amenities close by, including a choice of schools. The development is well placed within easy reach of the motorway network making the homes the ideal base for those who work in Halifax.
To see what made Jenny and Sanchia fall in love with the homes at Wheatley Chase, visit the show homes, open daily from 10am to 5.30pm.
For details of the latest availability and pricing, visit redrow.co.uk/wheatley.