Lakeland park's menu of tips for free eats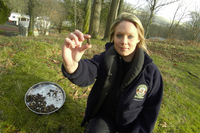 Tips on "friendly foraging" are being issued this autumn by a top Lakeland holiday park which has become a focus for fans of free food.

Skelwith Fold Caravan Park in Ambleside says that many caravan and motorhome visitors to the Lake District in autumn come in search of produce from nature's larder.

Foraging families and collecting couples, says the park's Henry Wild, have the advantage of being able to chill or freeze their harvest until they get home.

Or they can enjoy a meal of freshly gathered fungi the same evening, or even - as some do - make bramble jelly or sloe gin as soon as they return to their unit.

But visitors to the 130-acre park this autumn are being given some suggested ground rules to help keep their foraging both environment-friendly and low-risk.

Skelwith Fold's advice to all wild food lovers includes:

Don't strip the whole plant or - even worse - dig it up. Leave something for wildlife, such as the red squirrels and deer found at Skelwith Fold, whose winter survival depends on wild food.

Don't pick from hedgerows near roads with a high traffic volume as produce could be contaminated with diesel soot and other pollutants.

Similarly, avoid areas around agricultural land or public areas where the flora may have been contaminated with pesticides and herbicides.

If you are a first-time forager, minimise the funny-tummy risk - or worse - by keeping life simple and learning to identify a few easily recognisable and common species

Never send out children alone and unsupervised to forage, especially for fungi. And advise them that just because one part of a plant is edible, other parts may be poisonous.

Henry insists that Skelwith Fold is not trying to put people off from gathering wild food - and is delighted to welcome the growing number of touring guests with a taste for nature.

Lots of autumn berries and fruit make delicious eating, he says, as do many varieties of fungi such as apricot-coloured Chanterelles, brown-capped Penny Buns and the trumpet-like Horns of Plenty.

"The key word for responsible and safe foraging is moderation," suggests Henry.

"Don't gather more than you need, and be absolutely sure that you have correctly identified what you're going to be popping into your mouth or the caravan's refrigerator!" he says.

Details of Skelwith Fold, which remains open until the end of November this year, can be found at Skelwith.com, along with news about the park's recently launched touring club.