Longer-lasting holiday homes signal easier borrowing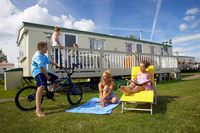 Would-be holiday home owners who fear they may be rejected for finance are being assured of a guaranteed acceptance for credit by Park Holidays UK.

The 25-strong parks group says it is hitting back at banks and other lenders whose tightening borrowing criteria mean that only a dwindling number of customers are being taken on.

Instead, Park Holidays UK has teamed with a major funding company which will give the green light for a loan using only the holiday home, not the person's house, as security.

Buyers just have to show they can afford the repayments, and pay the required deposit.

Group director Tony Clish says he hopes the move will now open the door to second-home ownership which many customers have seen slammed shut by high street lenders: "Since the credit crunch, most institutions now want only the most squeaky clean and lowest risk customers - regardless of how much they earn," he said.

"Any blotches on a credit file, even a few missed credit card or mobile phone payments some years ago, is enough to be declined for a loan," added Tony.

But now that's all about to change for people who want to own a caravan holiday home on one of Park Holidays UK's seaside centres in Devon, Dorset, and southern and eastern England.

The high-quality build of modern holiday homes and their longer lifespan, said Tony, means that they can now act as security for loans in place of a brick-and-mortar property.

Since last year, he points out, Park Holidays UK has increased to 20 years the length of its pitch licence agreements for buyers of new holiday homes: "That's how confident we are about the minimum time a unit will stay in first-class condition, and even after two decades we may be able to extend the term even further on an annual basis.

"The fact that the home will still have a residual value after all that time means that enlightened finance firms now have the confidence to lend regardless of a person's credit history.

"If you can afford the repayments and put down the deposit, you will be accepted," said Tony.

Even pre-owned holiday homes come within the scheme, as long as they have passed the stringent quality inspection which Park Holidays UK applies to all second-hand units.

Prices start from £5000 and rise to around £200,000 for the very top specification new units.

"We can't pretend that stricter lending criteria hasn't affect sales right across the industry, but this way of borrowing against the holiday home could represent a real breakthrough," said Tony.

"It also means that people applying are highly unlikely to have a decline showing up on their credit file, and by keeping up repayments, their credit record is repaired," he added.

More information about holiday home ownership, including a comprehensive buyer's guide, video, and a list of properties currently available, can be found at ParkHolidaysUK.com.