MG returns to international motorsport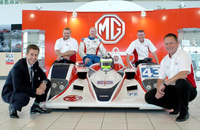 MG is returning to international motorsport in an exciting move which could see the iconic marque taking part in the world's most famous endurance race.

MG Motor UK has teamed up with Team RLR, which runs an MG Lola EX265 sports prototype in the Le Mans Series of endurance races throughout Europe.

Next year the Bolton-based team hopes to take part in the Le Mans 24-hour race and will use this season to gain valuable racing experience. The next round of the 2011 Le Mans Series takes place at Silverstone on September 11 when the MG Lola, carrying the famous MG octagon logo, will fight it out for six hours in the LMP2 class against some of the top racing teams in Britain.

News of MG's return to international racing was announced recently when Team RLR and the MG Lola visited MG Motor UK's factory at MG Birmingham.

The MG Lola sat alongside the recently launched MG6 Magnette sports saloon and the MG6 GT fastback as details of the motorsport deal was announced.

NickReynolds, Team RLR team principal, said: "We have one of the best prepared teams in the Le Mans Series, and the support from MG will ensure that we can be even more competitive both on and off the track throughout the 2011 Le Mans Series season and beyond.

"The deal is a great fit for both parties due to the heritage and provenance of the MG Lola EX265, and we are excited to be working closely with such a famous and much loved car manufacturer. We look forward to repaying MG for its confidence in us by providing many exciting moments for the company and its huge number of followers in the races ahead."

Guy Jones, MG Motor UK Sales and Marketing Director, said: "MG is delighted to be supporting Team RLR and the MG Lola EX265, which is such a famous car.

"The MG brand is synonymous with motorsport and with the new MG6 GT and Magnette models now in the market place we need to raise the profile of the brand. Supporting team RLR with the MG Lola in the exciting, high profile, Le Mans endurance series is a perfect fit for the brand and the team."

MG Lola EX265 was part of a squad of endurance racing cars which were successful between 2003 and 2008; including two class wins in the Le Mans 24 Hours race in 2005 and 2006.