Revitealize at Park Plaza Westminster Bridge London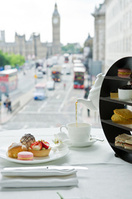 Mandara Spa and Park Plaza Westminster Bridge London are combining the best of Bali with the best of Britain by launching a Revitealize package to include a relaxing spa treatment followed by a traditional afternoon tea.
Choose from one of five 50-minute massage treatments to shed the day's stresses, before rejuvenating with a classic champagne afternoon tea in front of spectacular views of Big Ben, all for £109 per person.
Mandara Spa London's afternoon tea and spa package includes the use of the pool, sauna and steam room at Mandara Spa, a choice of any 50-minute massage treatment and a champagne afternoon tea in the Atrium Executive Lounge, complete with stunning views across Westminster Bridge.
Spa sessions are available every day and can be booked on the half hour between 11:00am and 1:00pm, with afternoon tea to follow.
The choice of 50-minute massages are:
Balinese Massage
This most relaxing massage harnesses the therapeutic properties of 100% pure essential oils. Used for centuries to renew, strengthen and heal both body and mind, this traditional therapy combines stretching, long strokes, skin rolling and palm and thumb pressure techniques to relieve tension, improve blood flow, ease stress and calm the mind. It can also help to improve the circulatory, lymphatic, muscular and nervous systems.
Warm Stone Massage
The healing power of touch combines with the energy of the earth in this relaxing, muscle melting massage. Smooth, warmed rocks glide across your body in long, flowing strokes. The heat helps to relax the muscles and has a soothing effect on your emotions.
Asian Head Massage
This shoulder, neck, upper back, arm and scalp massage is based on the ancient healing system of Ayurveda. A Thai poultice filled with exotic leaves, flowers and lime essential oil is dipped in warm coconut oil and used on the scalp, for complete relaxation. Deep thumb and finger pressure, friction and soothing strokes help to reduce tension, improve circulation and flush out physical and emotional toxins.
Muscle Ease Massage
This deep tissue sports massage is an effective way to assist with muscle relaxation. It is designed to increase flexibility, relieve muscle tightness and improve circulation and recovery time.
Fancy Foot-work
The most blissful ride your feet will ever take you on. It's like reflexology without the 'ouch'. Based on the same therapeutic principles of its ancient ancestor, this foot massage will help to release toxins and restore your body's energy flow.
Launched in February, the new Mandara Spa has brought a taste of Bali to Britain. From a menu of therapies incorporating ingredients native to the Indonesian Islands, to its soothing design with a contemporary Balinese décor, the spa offers an exotic escape in the heart of the city.
In addition to Mandara Spa body treatments, such as its signature Balinese Massage, Asian Head Massage and Mandara Harmony Package, the spa also offers signature Elemis facials and detox therapies as well as manicures, pedicures and waxing courtesy of Bliss. Spacious treatment rooms include one double suite for couples' treatments, three single treatment rooms complete with showers and an additional five generously-sized single treatment rooms.
The Spa Boutique offers a range of products and accessories from Mandara Spa's very own line as well as luxury British spa and skincare brand Elemis and the bestsellers from the Bliss range, allowing guests to continue the spa experience at home.
Mandara Spa is open from 9 am to 9pm daily. For more information, visit mandaraspa.com/london.