2011 Michelin France map now available for iPad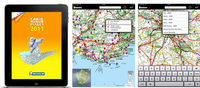 Following the success of the ViaMichelin Traffic application for iPad, Michelin has extended its offering with the launch of the first edition of the 2011 Michelin France map for iPad. The application can be downloaded from the iTunes App Store.

The quality and extensive content of Michelin maps combined with the flexibility of digital technology

The 2011 Michelin France map, which has been optimised for the iPad screen, enables users to:
Access three scale settings so that they can easily move about, zoom in on maps and refine their searches:
1:1,000,000, the scale of the Michelin France map.
1:275,000, the intermediate scale.
1:200,000, the scale of the Regional maps and the Michelin France atlas.
Launch rapid searches for a specific city.
Display hotels and restaurants from the Michelin guide, as well as tourist sites selected in the Michelin Green Guides, using geolocation technology.
Interface using the same graphic standards and same symbols as the printed Michelin maps.

Another advantage is that all map data is embedded in the iPad, which means no Internet link is necessary.This reduces possible connection costs and ensures that the maps are accessible at all times.

Users can consult the offline application from their home country when preparing their trip or when travelling in France and zoom at their leisure on the dynamic maps that are displayed, with no Internet hook-up costs.

In addition, users whose iPad is equipped with a GPS chip or who have Internet access can geolocate themselves instantly,move about on the maps and zoom at their leisure on the dynamic maps that are displayed.

Updated every year with new infrastructure data from across France, Michelin maps ensure that readers have access to the latest road and tourist information. Convenient and easy to use, they allow travellers to quickly get their bearings and visualize their surroundings.

Available in five languages (English, French, German, Italian and Spanish), the 2011 Michelin France map can be downloaded for £7.99.

From a computer, connect to the iTunes applications

2011 Michelin France map (£7.99)
itunes.apple.com/gb/app/id448327970?mt=8

From an iPad: Enter "Michelin" in the App Store to access all Michelin applications. Downloading requires an iTunes account.