Volkswagen puts the Scirocco R-Cup live on the iPhone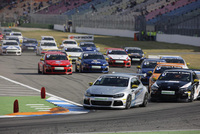 Ahead of Round Six of the Scirocco R-Cup at the Nürburgring this weekend, 5-6 August, Volkswagen Motorsport has launched an exciting new live-streaming application, 'R-Cup mobile', which allows motorsport fans to catch every wheel-to-wheel battle throughout the season, no matter where they are.

Highlighting the championship's reputation as the most innovative one-make cup in motorsport, fans around the world can now keep up to speed with events as they happen through the course of the race weekends and, for the first time, watch each round live through their iPhone or iPod touch. In addition, the app includes news about the series, tracks and drivers as well as photos, videos, results and the latest points standings.

As a DTM partner series, the Scirocco R-Cup continues at the Nürburgring ahead of the UK round at Brands Hatch next month. Joining the line-up of regular 'Junior' and 'Pro' racers on the grid will be German rally racers Uwe Nittel and Niki Schelle as well as two junior rally stars, Christian Riedemann and Hans Weijs Jnr who will contest the ADAC Rallye Deutschland later this month as Volkswagen Motorsport continue preparations ahead of the Polo R WRC making its debut in the World Rally Championship (WRC) in 2013.

The latest update of the 'R-Cup mobile' app is available to download from Apple's app store or direct from: volkswagen-motorsport.com/R-Cup_iPhone.