World Title surfing competition returns to Fiji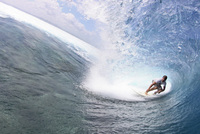 Fiji has just experienced one of the biggest swells of the last twenty years, at the legendary Cloudbreak - a permanent six-metre wave found offshore at Tavarua. Professional and Big Wave surfers from all over the world flew in to experience what is recognized as one of the most perfect waves on the planet.
So it is fitting that the ASP International, The Association of Surfing Professionals, has just announced they will be hosting the Volcom Fiji Pro at Fiji's Cloudbreak in 2012. The event will see the return of the Worlds' best surfers to Fiji for the 2012 ASOP World Title season.
Fiji will also be hosting a stand up paddle event in November 2011, where 150 competitors from around the world are expected to take part.
Famous with surfing aficionados the world over, Fiji offers perfect reef breaks that remain uncrowded - it is still possible to visit Fiji and discover un surfed waters that most surfers dream of!
Fiji has around 11,000 dedicated surf tourists who visit the 333 islands that make up the South Pacific country. Other well-known breaks include Restaurants, Mini Cloudbreak, Nomotu left and Desperations in the Mamanuca Islands. On the Coral coast there are many dedicated waves such as Hideaway Reef, Sigatoka Beach, Serua Reef and off Bega Lagoon there is the world famous Frigates Passage. In addition there are now waves opening up off the rarely visited Lau group of islands and off Qamea Island.
STA Travel and Trailfinders both offer a good selection of low cost flights and accommodation to Fiji.