Renaissance of carpet bags - Made of Carpet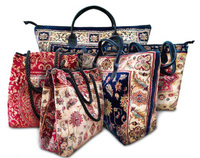 Designer Irina Bragin launches a collection of durable, plush and uniquely attractive bags that immediately take us back to an era of vintage elegance and romance.
First seen in Victorian times, carried as a symbol of wealth and worldliness by first class travellers, this attractive statement accessory has been patiently awaiting its Renaissance.
Irina Bragin is a designer with over 20 years in the international graphic industry.
Reflecting the diversity of Irina?s background the bags feature Byzantine fanciful intricacy and Mediterranean sunshine all with English reserve and precise lines seen only in haute couture.
Blending an eye-catching array of original tapestry designs and modern quality the bags are made of real Oriental carpet material. Colourful and trendy, the bags are soft and silky but at the same time thick and firm making them look and feel full bodied and luxurious.
Living in London for almost two decades, Bragin says, "For this collection I found myself initially inspired by the history and contemporary culture of the Belgravia, Chelsea, Knightsbridge and Kensington areas of London. This collection will appeal to the chic and confident woman with an independent yet understated style."
For more information, visit madeofcarpet.com.