Out to Africa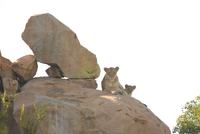 What is it about Africa that entices travellers to head to this fantastic, enlightening, surprising and intriguing continent? It could be the mix of vast and spectacular scenery across the desert, mountains and lakes, the larger than life animals, as well as the spirit of the people that infects so many visitors with a travel bug so powerful they'll never stop coming back. The life-cycle of learning that occurs on a trip to Africa makes it an ideal destination to choose for a gap stint. For an individual, this break abroad can range from taking time out during university either to develop a new skill or to try something that will make a student stand out from their peers in the crowd. Or it could be spending a period of time after university to travel, discover different cultures or gain a specific experience.
Adopt the Scout's "be prepared" motto and get ready to be inspired further. Real Gap Experience has put together a list from our enthusiastic team of experts on all things African to find 10 weird and wonderful facts about the World's second largest continent.
Did you know that...
1. There are fewer people with Internet access in the entire continent of Africa than in New York City alone.

2. African elephants are the largest living land animals. They can weigh up to 6-7 tons and drink over 160 litres of water a day.

3. The world's biggest frog comes from Cameroon. It is over one foot long.

4. The Sahara Desert is expanding in the south at a rate of about half a mile a month.

5. Table Mountain is believed to be the world's oldest mountain and home to over 1500 species of plants - more than that of the entire United Kingdom.

6. Africa is the most multilingual continent with over 1,000 languages being spoken there.

7. The only street in the world to house two Nobel Peace prize winners is in Soweto, South Africa. Nelson Mandela and Archbishop Desmond Tutu both have houses in Vilakazi Street.

8. Mt Kilimanjaro is the highest free standing mountain in the world.

9. Four of the five fastest land animals reside in Africa: the cheetah, the wildebeest, the lion, and the Thomson's gazelle. A cheetah can run up to 70 miles per hour!

10. The Namib is the world's oldest desert
Here are some trips that will truly bring Africa alive. With such hands on experience and interaction within the local community, it will be without a doubt a trip of a lifetime.
South Africa – Big 5 Wildlife and Community
South Africa continues to be an extremely popular destination for those seeking adventure. Seize the opportunity of gaining a life enhancing experience on a different type of safari and get really involved in working with animals. Help in a community conservation and environmental initiative to gain hands on experience feeding and interacting with some of Africa's Big 5. Fill those dreams and assist with tracking and monitoring of animals, bottle feeding abandoned lion cubs and making them strong before releasing them back into the game reserve. Out in the bush join the experienced field guides to observe the natural behaviour of elephant's, help with essential reserve maintenance including bush clearing, checking fence lines and making repairs. Gain detailed knowledge and understanding of the African bush and help with community projects. Experience the local area and the stunning golden beaches nearby. Make a difference by assisting the project in conservation efforts both with the land as well as the variety of game and wild animals.
VALID: Valid for all 2011 departures
DATES Available: Every month there are departures in 2011 and 2012

Prices start from £879 for two weeks per person for the Big 5 Wildlife and Community trip including shared accommodation in a volunteer lodge on full board, airport transfers, local in-country team and 24hr emergency support and a tour of Port Elizabeth.

Prices start from £1,299 for 3 weeks. Prices start from £1,699 for 4 weeks. Prices start from £2,099 for 5 weeks. Prices start from £2,499 for 6 weeks. Prices start from £3,099 for 8 weeks. Prices start from £3,699 for 10 weeks. Prices start from £4,299 for 12 weeks. South Africa-big-5-wildlife-and-community
Tanzania: Wildebeest & Mammal Migration
Resonating with hints of the wild and exotic, Tanzania's dry season takes place between June and October, and is one of the best times to visit Tanzania as the wildlife congregate around the shrinking waterholes. But, not only does it offer a better chance to see the Big Five, it is also the end of the largest mammal migration in the world which takes place across the Serengeti and the savannah plains as thousands of animals stretch as far as the eye can see.
The 4 weeks Tanzania Experience takes travellers to the heart of Tanzania.Thenearby Ngorongoro Crater also offers outstanding opportunities to see a large variety of wildlife, including the endangered black rhino. This escorted tour combines the best of safari, beach and bush. Highlights include safari in N'gorongoro Crater and Lake Manyara, staying in a traditional Masai village in a Masi boma (mud hut) and a Trek in the foothills of Mount Kilimanjaro. Give something back whilst volunteering at Real Gap's community projects in Moshi, become educated with a traditional African drumming and dance lesson and visit the Coral Islands Marine Park off the coast of Dar Es Salaam with a spice tour and a tour of Stone Town on Zanzibar. At the end of a rewarding cultural experience relax on Zanzibar's idyllic northern beaches.
Price from £1599pp land only (based on 10 September departure) and includes a mix of accommodation (volunteer accommodation, camping, traditional Masai Boma, and Cliffside bandas in Zanzibar), most meals, tour guide, airport pick-up, in-country orientation, local in-country team and 24hr emergency support. Flights available from £549pp. Tanzania Experience
VALID: Valid for all 2011 departures
DATES Available: Every month there are departures in 2011 and 2012 except in December

For more information, visit realgap.co.uk.