Discover Liepaja from a stunning contemporary penthouse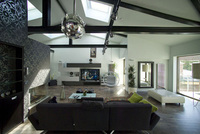 Oneoffplaces.co.uk, the website for unique and different holiday rentals, is delighted to announce the launch of one of the most stunning contemporary holiday propositions available. This penthouse is regarded as the best holiday apartment in Latvia and the surrounding Baltic States and with good reason. Not only is it in a beautiful old town just five minutes' walk from the beach, but the apartment interior has to be seen to be believed – truly the epitome of luxury.
The apartment has ceilings reaching as high as 5.5m and is flooded with light from floor to ceiling windows. There are remote controlled roof windows too. Inside you can swing from the world famous, iconic Eero Aarnio bubble chair (famously featured on the front cover of Playboy magazine and enjoyed by Donatella Versace and Daryll Hannah, amongst others). The terrace has superb views out across the old town, or if it's a chilly evening, head indoors to the large Finnish sauna.
Tabitha Symonds, co-founder and director of oneoffplaces.co.uk, said of this new addition to the portfolio; `What we love about this Latvian penthouse is that it will draw in the very people for whom One Off Places was set up; those who are discerning enough to want to explore new places off the main tourist trails, yet who want to treat themselves along the way with quirky accommodation`.
The apartment is in the town of Liepaja, a relatively undiscovered old town located on the Baltic coastline in Eastern Europe. Liepaja is 200km west of Riga in Latvia and is blessed with a Blue Flag white, fine sandy beach.
Prices for staying in the LuxLoft Penthouse are €150 - €200 per night (minimum stay three nights).
If the LuxLoft is a little small for your needs, then we also have a three bedroom apartment in Liepaja, also superbly designed, with its own Aquagate Steam Cabin.....
For more information on these and the other unique properties in the collection, including a merchants house in Morocco, a colonial villa in Sri Lanka; a glasshouse in New Zealand; a shepherds cottage in Spain; windmills, eco houses, tents, tipis and yurts; visit oneoffplaces.co.uk.