Clarion creates in-car nirvana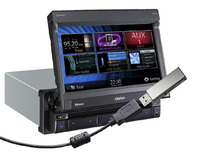 Clarion's latest blockbusting in-car multimedia source units fuse performance, features and functionality, combining the latest in modern technology with unprecedented convenience, all within a single, superb-sounding product, available for either standard or double sized dashboard apertures.

The 'standard' single-DIN sized NZ501E unit featuring a 6.2" motorised flip-out screen, and its sister, the double-DIN sized NX501E receiver with integral 7" screen, support AM/FM radio, CD, DVD, MP3, AAC and WMA playback. TeleAtlas based SatNav is also provided, as well as connectivity for your iPod or iPhone and Bluetooth hands-free calling and audio streaming via Parrot technology.

Notwithstanding a vast array of features, the products' real appeal to a technology savvy consumer is its ease of use and ability to take mobile entertainment sources on the road, which is reflected in Clarion's commitment to develop its comprehensive interactive GUI (Graphical User Interface).

Large animated icons work in harness with an intuitive rotary control on the NX501E while the NZ501E shares the same bold on-screen icons alongside key function buttons on the unit's fascia.

In both systems, Flick Operation – common place in mobile phone and online magazine technology – allows the user to scroll through menus easily and effectively, while icons can be highlighted and dragged to alternative positions for a more customised appearance and set-up.

Also putting the GUI to good use is a comprehensive navigation package, populated by a TeleAtlas map database covering 44 countries, all stored on a mighty 8GB microSD card. In addition to the pre-installed data, new maps and content such as POI can be downloaded from Clarion's dedicated portal site – navi extras – while there is a Latest Map Guarantee to provide a download of the most up-to-date data free of charge, upon registration of the product.

For the first time, Clarion has incorporated a Parrot Bluetooth module within its multimedia showcase, offering the widest level of compatibility with a variety of mobile phones and PDA's, to facilitate hands-free communication via a built-in or optional stand-alone microphone, as well as wireless A2DP audio streaming via supported devices.

The pinpoint detail provided by the high-resolution WVGA LCD makes viewing of screen content clear and crisp…essential when you consider that both units can be hooked up to a rear vision camera in order to aide parking.

Both models also sound crystal clear, thanks to the powerful internal 4 x 50W amplifier, knocking out audio without missing a beat to deliver superb clarity amidst an authentic and realistic musical performance.

With enhanced opportunities to fine-tune the audio, via a pre-set three-band EQ that can be customised, and Magna Bass EX which boosts the lowest octaves for deeper bass, Clarion's NZ501E and NX501 deliver high-tech in-car multimedia in a convenient and easy-to-operate package that does not compromise on quality.

The Clarion NZ501E and NX501E are priced at RRP £899.00, and are available from Clarion appointed specialists across the UK. For more details, visit clarion.co.uk.