First time buyer reserves at first birthday celebration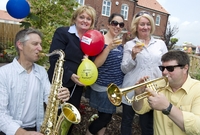 Existing residents as well as new purchasers helped Taylor Wimpey staff celebrate Lysaght Village's first birthday on Saturday. And one purchaser even reserved her first home at the party.
Ruth Jones from Newport, purchased a brand new Harvington home released for the first time on Saturday, while other guests enjoyed a birthday barbecue and listened to the sounds of live music from local band, Groove Daddy.
Regional sales and marketing director, Sara Taylor, said: "As Lysaght Village has now been up and running for one year and we were about to release a new selection of homes which haven't been seen before on site, we just had to have a party.
"We're delighted to have Ruth, a first time buyer, make the first reservation on the new Harvington home.
"We've enjoyed huge success so far on the site and we will continue to offer an excellent range of properties suitable for all tastes and pockets, so come and visit us on site and see the range of homes and offers for yourself."
Lysaght Village is a collection of one, two, three and four bedroom homes within close proximity to the excellent range of shops, restaurants, attractions, entertainment and culture that can be found in Newport city centre.
Commuters can benefit from easy access to the M4, in addition to the convenient location of the city's railway station.
For further information on Lysaght Village and the range of homes available, visit the marketing suite which is open daily. Alternatively, log onto taylorwimpey.co.uk/southwales.