Walking tours in undiscovered Almeria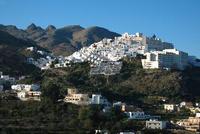 The UK's leading guided walking holidays operator, Ramblers Worldwide Holidays, is offering a one week tour in the relatively untrodden eastern part of Andalucia – Almeria.
This lies in the lee of the majestic Sierra Nevada mountain range, which largely shelters it from the rain-bearing westerly winds of the region. Technically a semi-desert, Almeria lies dormant during the Andalucian summer but bursts into life and colour at the first hint of winter and spring.
The region has been largely protected from over-development, which has had an impact on much of the coastline of Southern Spain and it is an absolute haven for walkers keen to get 'off the beaten track'.
Highlights of the tour include, a walk amidst the dramatic and colourful volcanic coastal range of the Cabo de Gata Natural Park; fabulous walks where the Mediterranean Sea and the Sierra Nevada meet and the comfort of the superb 4 star hotel Valle del Este Golf Resort at Vera, which provides many facilities including an outdoor swimming pool and pool bar, buffet restaurant, pub, gym, sauna, hairdresser and spa with a whole range of beauty treatments. All the spacious rooms have a private terrace with views over the golf course and / or the coast and have all mod cons.
Price from £615 per person includes return flights, transfers, half-board accommodation and the services of a dedicated tour leader.
For more information, visit ramblersholidays.co.uk.