Luxury Levisham B&B in seventh heaven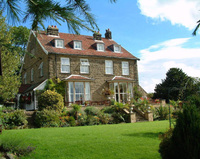 "Raffles is not the world's best hotel – yours is!" A recent entry in the visitors' book at the five-star Moorlands Country House bed and breakfast proves why it is yet again one of only six establishments shortlisted for Welcome to Yorkshire's prestigious White Rose Awards this year.
"One of our other guests recently told me that they had stayed here 33 times over the last few years!" says Gill Leonard, who runs the B&B with husband and head chef Ron. "But despite all their lovely comments, it's still a surprise and delight to be shortlisted so many times for the Welcome to Yorkshire Awards after 10 years in the business, it's something you never expect!"
No stranger to awards, Gill and Ron's beautiful B&B – situated in Levisham village at the heart of the stunning North Yorkshire Moors – has been nominated for the 'Best B&B and Guest Accommodation Award' many times before and over the last decade has clinched the title four times, as well as scooping numerous gold and silver awards in national competitions such as the Enjoy England Awards for Excellence.
The home from home feel is what makes people return to Moorlands time and time again. The daily-changing breakfast menu is home cooked and home sourced with homemade muesli and yoghurts, local Whitby Kippers and fresh eggs from Gill and Ron's own brood of chickens – "if people ask, we can always tell them where the food came from!" says Gill – and even the jams, pickles and chutneys are made by Gill and her mum from fruit from their vegetable patch.
As well as four comfy and cosy rooms with gorgeous views – and a five star holiday cottage to rent – there's stabling for horses and a tranquil three-and-a-half acres of gardens and woodland to roam around. For those that want to explore further into the North Yorkshire Moors, or take a day excursion to the coast, chef Ron will provide a tasty packed lunch too!
Gill says the secret to their success is treating everyone as if they are visitors to their own home. "Guests have never been just customers to us, we treat everyone as an individual and we want them to feel our home is their home," she says. "We always keep abreast of new trends and try to move the business forward each year with refurbishments and other changes, and I think this keeps us fresh and interesting to old and new guests."
The Welcome to Yorkshire White Rose Awards are the largest celebration of tourism excellence in the UK, recognising the very best of the industry throughout Yorkshire. Gary Verity, chief executive of Welcome to Yorkshire, said "Yorkshire's tourism economy is booming and the finalist list for the White Rose Awards indicates why. The level of high quality entries was outstanding and a firm indication that our tourism industry know the importance of offering our visitors that extra special experience." This year's awards will be announced on Monday October 10, at glittering ceremony at Doncaster Racecourse.
For more on Moorlands, visit moorlandslevisham.co.uk.