Win two free InterRail Passes for Europe with Gap Daemon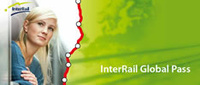 Gap Daemon, the new online business dedicated to helping young people make the most of their gap year, is offering two free InterRail Passes for Europe. All you have to do is complete their short survey on travel and enter the prize draw.
The passes are for unlimited travel across 30 European countries for a month, and can be used any time in the next 12 months. Nadia Latif, editor at Gap Daemon is a gap year and travel expert and explains why they are offering this fantastic prize.
"It's simple: we want to help more people take gap years. We believe everybody should have the chance, whether it's a blow-out RTW trip or a few months backpacking around Europe. We've been there, done it and have the t-shirt. Now we're here to help get everyone clued up on the what to do, where to go and how to stay in touch. As for the survey, it's a great way of getting feedback on issues facing people out there travelling today. Let us know what you think and you could win two free tickets to see Europe."
The survey is available online and takes less than a minute to complete. Just fill in your name and email to be entered into the Gap Daemon InterRail prize draw.
To find our more about Gap Daemon and how they are helping young people around the world get the most out of their gap year go to gapdaemon.com. Its free, its open and its packed with information, advice, and tools that can really make the difference between gap heaven and gap hell.