12 months, 5 continents, 2 friends = 1 ultimate year out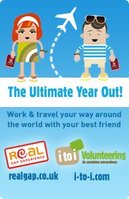 With tough times ahead, Real Gap Experience and i-to-i Volunteering are offering two lucky students the chance to travel the world with guaranteed work placements globally.
Emotions are running high after the A Level results were announced this week. With tuition fees set to soar in 2012, Universities are experiencing an unprecedented demand for places. And with 673,000 students applying for just 192,000 places through clearing, many school leavers could be left disappointed as they miss out on higher education opportunities this year.
Gap travel experts Real Gap Experience and i-to-i Volunteering understand that it is a difficult time for young people either trying to secure a place at university or to stand out in the job market. In a recent nationwide survey of over 500 UK businesses conducted by Real Gap Experience, it was identified that nearly half of employers (45%)* look at work experience first on a young candidates CV, compared to just 21% who look at qualifications first.
Sam Cox, Managing Director says, "We have launched a global search for two lucky candidates to win a once in a lifetime money can't buy opportunity. Not only will they gain an understanding of some of our amazing travel experiences and travel the world, they will also have guaranteed work placements with both companies in our global offices. In the current economic climate students are facing challenging times and research has shown us that it's not just about qualifications; employers want a combination of experiences that will demonstrate key qualities and skills in the work place. This ultimate experience will give two students the perfect starting point.
Sam Cox, continues; "The two lucky winners will travel and discover Thailand, South Africa, Australia and the USA. Whilst visiting some of the world's most stunning destinations we will provide them with the tools to report back via blogs and video. By documenting all of the fantastic experiences on their trip, the students will effectively be creating a portfolio, a potential platform to impress future employers. During this amazing adventure, work experience in Real Gap Experience's and i-to-i Volunteering's international head offices in Melbourne, Boston and the UK are included. This is an opportunity to put the skills they will have learnt to the test back in the office environment".
For two lucky winners this is the beginning of a life-long learning journey. It is apparent in the current economy that employers are looking for a strong record of qualifications as well as seeing what students have achieved outside of the academic world. This is a great opportunity to seize a life enhancing experience and get that much needed work experience under their belt.
Head to facebook.com/ultimateyearout where Real Gap and i-to-i Volunteering have developed a fun interactive Facebook application where applicants choose their travel buddy. There is also an opportunity to produce a fun, interactive video to preview what the Ultimate Year Out holds and features yourself and your friends.