Far Eastern delights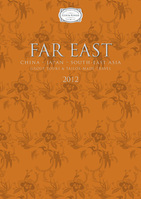 The world's longest established travel company, Cox & Kings, has launched its new Far East brochure for 2012 featuring a comprehensive programme of escorted group tours and private tailor-made travel to China, Japan, Mongolia and Southeast Asia. New for 2012 are new river journeys in Southeast Asia, two private itineraries to Cambodia, a private tour of South Korea and enhanced itineraries to China and Bhutan.
Having relaunched tours to Burma in October 2010, The Golden Land of Burma has become the best-selling group tour in the Far East brochure. Yaow Butwisate-Lok, Cox & Kings' Far East product manager says, "We are delighted that our programme to Burma has been so well received and it has sold so well in its first year. The country is rich in history and culture yet relatively untouched by tourism. Now is definitely the time to visit, while you can still see the exquisite temples and other sites with very few others around. Our itineraries showcase the country's highlights but our specialist tour consultants can arrange any other private tailor-made trip".
The escorted group tour, The Golden Land of Burma, is a 13 day / 10 night escorted group tour priced from £2,495 per person. The price includes international flights from London via Bangkok with Thai Airways, guided excursions as specified, transfers and accommodation with breakfast daily.
Indochina has continued to be the best-selling region in the Far East, with the four group tours, Grand Tour of Indochina, Spirit of Vietnam, Golden Land of Burma and Ancient Kingdoms of South-east Asia, accounting for 25% of all of the brochure's group tour sales. Butwisate-Lok says, "Indochina is an exciting region, which has a mix of cultures, landscapes, religions and traditions. It offers great value for money, fascinating cities and character hotels that maintain their luxury and offer unrivalled service". Four new river cruises have been added to the 2012 brochure including Burma's Irrawaddy, the Mekong in Vietnam, north-east Thailand or Laos. The Grand Tour of Indo-China p50 will now include a stay near the Mekong delta and boat trips to see floating markets and local life on the Mekong. The 21-day / 18-night tour is priced from £4,295 per person.
New: Colours Of Cambodia. This new 16-day / 13-night itinerary travels beyond Angkor Wat and Phnom Penh and visits the remote temples of Kor Ker and Beng Melea, charming Battambang, and explores the mangroves and jungles of the Cardamom mountains in the south-west. The private journey is priced from £3,495 per person, which includes flights from London with Malaysia Airlines, accommodation with breakfast daily and other meals as specified, transfers and guided excursions.
New: Superior And Luxury Departures For China Experience. This ever-popular 11-day / 9-night tour now has superior and luxury options, featuring separate departures based on either 4-star or 5-star hotels. The price is from £2,095 per person for the superior departures and £2,695 per person for the luxury alternative. The tour includes Beijing and Xian, as well as picturesque Guilin and cosmopolitan Shanghai. Superior departures were introduced in 2011 for China: The Grand Tour and bookings increased by 30% compared with 2010. It is predicted that similar increases will occur for China Experience by introducing luxury departures.
There is a growing trend across all of the Cox & Kings' products to travel independently and the 2012 Far East brochure features additional tailor-made pages giving ideas for those wanting to explore beyond the main tourist trails. Butwisate-Lok says, "In China particularly, clients want to get away from the main tourist areas as they realise there is more to see than beyond the Great Wall and the Terracotta Warriors. Our suggestions provide inspiration for enhancing tailor-made itineraries by allowing clients to explore lesser-known areas away from the crowds but staying in accommodation that matches their budget. There is a comprehensive range of private itineraries to China covering the Silk Road region of west China, imperial eastern China, the central heartlands, and fabled Shangri-La in the south west".
New: Wonders Of South Korea. Cox & Kings' new private journey combines South Korea's iconic sights and contrasting cultures. The itinerary begins in Seoul, where the old meets new, and journeys through rural Songnisan and Gyeongju to see the ancient capital of the Silla kingdom. The 9-day / 7-night is priced from £2,195 per person and includes flights from London with Korean Air, private transfers, guided excursions and accommodation with breakfast daily and most lunches.
Please see tailor-made holidays Far East for the full programme.