Chevrolet Malibu to celebrate European debut in Frankfurt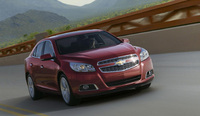 Having celebrated its world debut at concurrent shows in the U.S. and China, the new Malibu will form a cornerstone of Chevrolet's presence at the 2011 Frankfurt Motor Show. In Europe, where Malibu was not previously available, the all-new version will go on sale next year and be the brand's new flagship.

"The Malibu will come on top of the seven new entries launched in Chevrolet's centennial year," said Wayne Brannon, President and Managing Director of Chevrolet Europe. "The Chevrolet Malibu is the brand's new top-of-the-range offering, bringing proven value with a premium feel to Europe's midsize segment."

Sleek appearance and a new sense of athleticism

With a wheelbase of 2,737 mm and a track width of 1,577 mm, the new Malibu has an athletic posture. Its grounded stance and an integrated spoiler combine to give the car an assertive look. Thanks to a drag coefficient close to the Volt's 0.28, the Malibu will be one of the most aerodynamically efficient cars in Chevrolet's passenger vehicle line-up.

Other exterior design cues include Chevrolet's signature dual-port grille, powerful Xenon or high intensity discharge (HID) headlamps, large Chevrolet bow-tie badges in front and rear, and new Camaro-inspired LED dual-element tail lamps. Wheel sizes range from 17- to 18-inch options to suit an array of buyer preferences. Nine exterior colors and up to four interior color combinations can be chosen from, depending on the model selected.

More space, comfort and refinement

The new Malibu features an all-new dual cockpit design that creates an inviting, spacious and comfortable environment with plenty of shoulder and hip room.

The metallic or chrome accents used, the soft ambient lighting along the instrument panel and in storage pockets as well as the contrast stitching add to the car's interior refinement. In strategic locations, noise-deadening materials have been applied for a quiet, relaxed ride.

The Malibu has a number of storage areas, including a radio face that articulates up and down to reveal a six-inch deep storage area behind its seven-inch touch-screen radio display – a first in a midsize car. The full range of latest infotainment options that the Malibu offers includes new radio systems and an available navigation system. On up-level specifications, Bluetooth wireless connectivity enables hands-free use of smart phone apps while the device remains safely stowed.

Precise tuning enables outstanding ride and handling

Customers will be able to chose between two fuel-efficient and powerful 4-cylinder gasoline or diesel-fueled engines with 2.0 liter and 2.4 liter displacements and a power output of 164 hp and 169 hp, respectively. In Europe, the all-new Malibu will be available with both manual and automatic transmission.

The Chevrolet Malibu has been engineered to be on par with more expensive sedans in terms of ride and handling. Benefiting from continuous refinement of award-winning midsize entries, GM engineers have tested, tuned and calibrated the Malibu on rural roads, highways, freeways and the company's validation facilities around the world.

Its solid body structure is as rigid as any in the global midsize sedan market. This allows for precise tuning and dynamic vehicle control, both of which are key to the Malibu's excellent ride and handling characteristics. Other systems contributing to the Malibu's ride performance are a premium steering gear for smooth, precise responsiveness and on-center feel, a McPherson strut front and multi-link independent rear suspensions, and an isolated engine cradle that disrupts the transfer of noise into the passenger cabin.

Chassis control technologies include four-channel anti-lock brakes (ABS), full-function traction control, four-corner electronic stability control (ESC), electronic brake force distribution (EBD), brake assist system (BA), corner brake control, hydraulic brake fade assist and drag torque control.

Rock solid safety performance

When it comes to safety features, the new Malibu will be one of the best-equipped vehicles in the segment. It will be pedestrian-protection-compliant in all markets where it is sold. A total of 8 airbags, dual-stage driver and front passenger airbags, driver and front-passenger pelvic/thorax side-impact airbags as well as roof rail-airbags with rollover protection, are standard safety features for all global markets. Rear park assist and a rearview camera are available with mid- and up-level offerings.

The Malibu will be built in manufacturing facilities around the world, including the United States, South Korea and China.