Even better value from MG Motor UK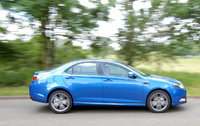 Customers buying new '61 plate MG6 GT and MG6 Magnette models will get even better value for money.

MG Motor UK is introducing a special three-year fixed price servicing cover for just £199 on all new MG6 models sold during the new '61 plate month of September.

It adds even more to an already amazingly strong value-for-money package on the new MGs. They have probably the highest level of standard specification of any cars in their sector on sale today.

The latest MGs also benefit from extremely low insurance group ratings of 13E, and 14E on top TSE models, which reduce premiums for most drivers.

Clint Cordle, MG Motor's Marketing Manager, said: "The fixed price servicing offer adds to an already very impressive list of cost savings for buyers.

"The MG6 models have a truly fantastic value-for-money package. When you look at all the kit fitted to the cars as standard it's amazing and would cost up to £6,000 on some competitor vehicles."

The MG6 GT in TSE specification includes a comprehensive lists of standard equipment including 18-inch alloy wheels, cruise control, iTPMS tyre pressure monitoring, leather sports seats, rear view parking camera with front and rear reversing aids, driver and front passenger electric seat adjustment, heated front seats, automatic dual-zone air conditioning, electronic rain sensing wipers, a built in full colour display sat nav system with full European mapping, RDS radio, CD player, MP3, USB, Aux-in capability and Bluetooth mobile phone integration.

MG6 GT fastback range starts at £15,459 for the S model, £16,995 for the SE and £18,995 for the TSE.

MG6 Magnette four-door sports saloons range from £15,995 for the S, £17,495 for the SE and £19,995 for the TSE.

Both cars have been designed and engineered at MG Birmingham where final assembly also takes place. Currently more than 400 people are employed at the site.