Home-hunters encouraged to cash in on Bellway's sale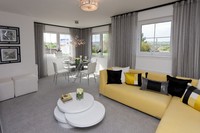 Award-winning housebuilder, Bellway Homes is providing huge savings of up to £50k across a range of new apartments at its three popular developments in and around Glasgow, representing a massive summer sale in excess of two million pounds.
The Bellway Homes' six week 'Summer Bonanza' starts on 1st September at the popular Pyrus development in Parkhead, Lairds Gate in Cambuslang and Ainslie Square in Renfrew.
Each development offers a collection of stylish one and two bed apartments in the heart of Glasgow city centre, as well as easy to reach locations on the outskirts of the city.
First-time buyers in particular will benefit from vast savings on the brand new apartments offered by Bellway to enable them to get on to the property ladder sooner rather than later.
Bargain prices for a choice of apartments across the three developments include a release price of £79,995 against a previous starting price of £129,995.
Fraser Conn, Sales and Marketing Director of Bellway Homes, is encouraging prospective home buyers to buy now, take advantage of today's bargain prices and gain a bigger return on their investment in the future.
Fraser says: "There's no better time to buy a brand new home in Glasgow City and surrounding area thanks to Bellway's bumper sale on apartments. A brand new home also means less maintenance and lower utility bills – so more time for buyers to simple enjoy their home and live the way they want to.
"With low interest rates, buying at today's prices means bigger benefits down the road as a new home's value increases. Our summer sale is an once-in-a-lifetime opportunity, making the prospect of securing a property, particularly for first time buyers, more attainable. We can't maintain these prices forever, so I would urge prospective purchasers to visit one of sales centres sooner rather than later."
Pyrus is situated just two miles south-east of the city centre, just a few minutes walk to The Forge Shopping Centre There are also a variety of supermarkets and retail parks in the vicinity as well as a monthly Farmers' Market at the world famous Barras. And with the Commonwealth Games coming to Glasgow in 2014, the surrounding area is currently undergoing substantial re-development.
Ainslie Square is located at Renfrew where the River Clyde and the River Cart meet. Trains from Paisley Gilmour Street station – just over two miles from Ainslie Square – take just 11 minutes into Glasgow Central. At Ainslie Square residents are also conveniently close to the A741 and M8 – while Glasgow International Airport, and its world-wide destinations, is under three miles away.
Lairds Gate's offers exceptional rail and road connections, making it possible to be in central Glasgow within just 15 minutes for work or leisure. The development's proximity to Cambuslang and Flemington provides a wide choice of good schools, shops, supermarkets and leisure facilities.
For further information on Bellway's 'Summer Bonanza' at Lairds Gate, Pyrus and Ainslie Square, visit bellway.co.uk.
Pyrus Sales Centre
Open 5 days, Thursday to Monday 10am - 5pm
Lairds Gate Sales Centre
Open 5 days Friday to Monday 10am to 5pm, Late Night Thursday 11.30am to 7.30pm
Ainslie Square Sales Centre
Open 5 days Fri to Mon 10am to 5pm, Late Night Thurs 11.30am to 7.30pm