SsangYong seeks additional dealers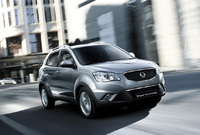 SsangYong Motor UK, the new importer of Korean SsangYong cars, has launched its drive to increase dealer representation to 65 by the end of the year.
The SsangYong brand is returning to Britain after a two year absence, and the company is focusing its sales and marketing effort on the launch of its first crossover, the Korando. Advantageously priced from just £16,995 and with a comprehensive specification, Korando takes SsangYong into the fast growing crossover segment, pitching the car against competitors from brands such as Hyundai, Kia, Mitsubishi and Nissan.

"This is a great franchise opportunity for a range of businesses," said Paul Williams, CEO of SsangYong Motor UK. "The smaller multi-franchise holder, specialist 4x4 and niche dealer, and even a current used car or service outlet looking to take on their first new car franchise will all see sound business benefits.

"SsangYong is being relaunched with new products, new investment from the Indian engineering conglomerate, Mahindra & Mahindra, and new backing for the UK importer which is now owned by one of Europe's leading independent vehicle distribution companies, Bassadone Automotive Group.

"We are offering dealer-selected objectives, competitive and straightforward dealer margins backed-up by a full range of support including a floorplan facility that is not linked to retail finance, and good parts supply."

Added Steve Gray, SsangYong's recently appointed marketing and communications director: "When it comes to electronics, mobile phones and now cars, Korea is increasingly seen as the new Japan. While SsangYong may not yet be as well known as its Korean stable mates, Korando will be viewed as the clever choice for families and those who tow a caravan, horsebox or trailer.

"This is a tremendous opportunity. We are effectively a new company launching a new car into the fastest growing segment, which means we don't have to be hide-bound by convention in the way we work with our franchise partners.

"The SsangYong franchise offers an accessible and low-cost addition to an existing business, and while we seek professional people who will work to our professional standards, these are far from onerous; we want dealers who will enjoy working with us," he added.

Business owners interested in finding out more should visit ssangyonggb.co.uk/become-a-dealer

Open points include:
Inverness, Aberdeen, Borders, Newcastle, Teesside, Leeds, Bradford, Sheffield, Nottingham, Greater Manchester, Liverpool, Coventry, Watford, Leicester, Reading, Exeter, Southampton, London/South East, Mid & North Wales.