Own a piece of history at Balls Park, in Hertford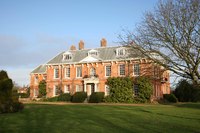 With the recent increase in price and quick sale of Harry Potter author J K Rowling's childhood home demostrating how homes with a story attract greater market attention, the history of buildings is an ever-popular topic; one that is of increasing importance to house hunters looking for a home with a difference. City & Country Group is providing an opportunity for canny house hunters to purchase their very own piece of history, with its range of luxury homes on sale at its Grade I Listed development, Balls Park, in Hertford; a development thought to be the inspiration for the Netherfields mansion in Jane Austen's iconic novel, Pride & Prejudice.
Ian Dieffenthaller, Architect at City & Country Group, who specialises in researching the genealogy of the Group's portfolio, comments on the history of Balls Park: "Whilst Balls Park is undoubtedly an architectural gem with some of the best 17th century plasterwork in the country and a lot of solid 18th century panelling, it is particularly interesting to note the development's connection with Jane Austen. By the late 18th century, this part of Hertfordshire was extremely wealthy and a desirable location for those from London looking to build their country seats. Always at the architectural cutting edge, Balls Park, despite its Carolean roots, exemplifies this period of Georgian opulence and it is said that the famous Netherfield Ball in Pride and Prejudice was inspired by a similar gathering at Balls Park that Jane Austen had attended."
Having been meticulously restored by award-winning restoration specialist City & Country Group into a range of stunning apartments and duplexes, these properties boast a unique blend of traditional and contemporary features, offering the very best of modern living in a historic setting.
With a recent survey revealing that period properties with a story to tell are more likely to retain their value than their new-build counterparts, buying a home with a history is as much a wise financial decision as it is a personal cultural interest.
David Walker, Head of Sales & Marketing at City & Country Group, comments: "At City & Country we are conscious of the important need to preserve our national heritage and we have worked hard to ensure that the rich historical background of the buildings at Balls Park and our other developments is preserved. Whilst the wealth of period architectural features reflects the early history of the site and the modern interior renovation echoes current design trends, residents are presented with a brilliant opportunity to imprint their own mark on the historical tapestry of the building, whilst being safe in the knowledge that the property will retain its value."
The Balls Park properties have been finished to an impeccable standard and feature beautifully restored sash windows, as well as an abundance of other original features. Bespoke kitchens have been designed for each property and include a range of integrated stainless steel appliances, whilst the bathrooms incorporate white sanitaryware and chrome fittings. Throughout the properties, top quality flooring has been provided including 100% wool carpets, porcelain floor tiles and either engineered oak boards or restored original floorboards.
Balls Park is an exclusive community, and provides the perfect location with Hertford town centre just a short 10-minute walk away, where there are a variety of shops, restaurants and cafés. Whilst Kings Cross, Moorgate and London Liverpool Street are all accessed easily in under 50 minutes by train from Hertford with two separate train lines.
Prices at Balls Park start at £210,000 for a one bedroom apartment, £385,000 for a two bedroom apartment, £500,000 for a three bedroom apartment and £525,000 for a two bedroom duplex. For further information or to arrange a viewing, please contact City & Country Group's on-site Sales Suite, open daily between 10am and 5pm, or visit balls-park.co.uk.