Men get a grilling in Sainsbury's Dishy Dads survey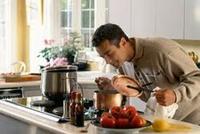 It seems that the old adage that the way to a man's heart is through his stomach is true - Sainsbury's magazine's Dishy Dads survey of over 2000 respondents, out today, shows it appears that they enjoy delicious food – just as long as someone else makes it! Maybe it's time for men to step up to the hotplate.

Men may rule the roost when it comes to flashy, high-profile cooking – Jamie, Gordon, Raymond et al wield the pans with aplomb in restaurant kitchens and on TV food programmes – but when it comes to manning the stoves at home, it's a very different story.
Men may have more role models but everyday cooking for families is very much the preserve of women. Just one in 10 dads takes sole responsibility for serving up food for the family, compared to 65% of mums. Not only is Mum the main preparer of food, she also shoulders the responsibility for getting in the provisions with only 5% of men prepared to write the shopping list and fill the supermarket trolley each week.

Of course, there are dads who are happy to don an apron in the kitchen – 30% of dads help their partner prepare and dish up the family meal – but guess who's making the mess and who's washing up afterwards? Just 14% of men will leave the kitchen sparkling, while 48% are strangers to the rubber gloves, happily leaving the clearing up to their partners.

And when it comes to experimenting in the kitchen, dads are sticking to the tried and tested – while 60% of women love to try new recipes, only 20% of men will stray from their old favourites. And those favourite meals? Pasta tops the list, followed closely by roast dinner, with curry a close third.

Finally, who gets the kids' vote? Just 13% of dads get the thumbs up from their offspring, while 47% of mums get best cook's crown at home.
"Here at Sainsbury's magazine we're shocked by these results," says editor Helena Lang. "For years I've heard men boasting about how they make the better cooks but it seems that when it comes to putting the oven gloves on they're actually far too busy. It's all very well commanding pole position at the barbecue, or carving the turkey at Christmas, but what about the limitless meals that have to be put on the kitchen table day after day, week after week? Come on, British Dads… show us how 'dishy' you really are!"

The latest issue also features celebrity Dishy Dads – comedian John Bishop, former England rugby captain Lawrence Dallaglio, presenter Matt Baker, actor and former Celebrity Masterchef contestant Neil Stuke, and fitness trainer to the stars Matt Roberts, who share their favourite recipes to cook with the family and their tips on getting kids involved in the kitchen.