Aphrodisiac effect at the Walpole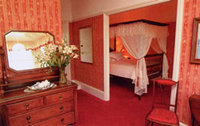 To celebrate the arrival of Rodin's famous sculpture, "The Kiss" at Margate's Turner Contemporary this autumn, the town's Walpole Bay Hotel and Michelin-listed Ambrette Restaurant are joining forces to offer a special romantic mini break package.
The renowned Indian fine dining Ambrette will serve an exquisite 10-course aphrodisiac sampler menu, using ingredients known for their positive effect on the libido. The aphrodisiac menu will be served on the day of the statue's unveiling on the Tuesday 4th October, and thereafter throughout the exhibition, which lasts until 2nd September 2012, by special request at 24 hours' notice.
The legendary Walpole Bay has double rooms from only £75 a night including buffet breakfast. A superior 4-poster suite costs £145 a night in high season. Couples can upgrade to the Walpole's special "Celebration Package" with champagne, chocolates, flowers and breakfast in bed for an extra £75.00. Guests can also arrange to be collected service in the hotel's chauffeur-driven Royal Royce Silver Spirit from the Margate station, which is 4 miles away, for only £30.
The Walpole has a long connection with the art world and features its own "Napery", a textile art gallery, displaying works on linen table napkins from more creative guests and internationally renowned artists including Russell Crotty and Ellen Harvey (both Turner Contemporary exhibitors), Curtiss Tappende, Martin Parr and Tracey Emin.
The hotel also serves as a living museum of social history with original features and permanent displays of antiques, photographs, period costumes and artefacts.
The lightly spiced dishes The Ambrette promises a very different fine Indian experience, where guests taste the real herbs, rather than have their flavours overwhelmed by strong spices.
A keen student of Indian cookery, Ambrette's chef-patron Dev Biswal learned how aphrodisiacs are intrinsic in the social fabric of a country that portrays itself to be highly conservative.
As a child Dev spent a lot of time in Orissa, a magical land with parts lost in time. The temples are covered in highly erotic and beautiful carvings of men and women – sometimes in groups – from the Kama Sutra, the ancient Indian text on human sexual behaviour. He had never seen such an energetic celebration of the sexual energy. These temples were built in the pre Islamic periods when people enjoyed sexual freedom in society. These stone sculptures used to baffle Dev's adolescent mind, asking, "If sex is sinful, then how come the abode of the Gods are covered with sexual impressions"
Build just before the First World War extended in 1927, The Walpole Bay Hotel is now being lovingly restored to her former glory by the Bishop family. It was built by Louisa Budge and stayed in her family until 1995, before being acquired by the Bishops. The caged 1927 Otis Trellis lift, serving all 5 floors, is the centrepiece of reception.
Augusta Rodin's The Kiss, now worth £10 million, was commissioned for £1,000 by art-lover Edward Warren and kept in a stable block at his Lewes home in Sussex until the Tate Gallery bought it in 1933. The work was voted the nation's favourite work of art in a 2003 poll and will be on loan from the Tate collection. turnercontemporary.org
The life-size marble sculpture will go on show in the Sunley Gallery between 4 October and 2 September 2012. The statue, which is 1.8m (6ft) tall and weighs 3,180kg (7,010lb) depicts the lovers' passion as they read the story of Lancelot and Guinevere.
Inspiration for the embracing couple came from a true 13th Century story of forbidden love, immortalised in Dante's Inferno. The couple are the adulterous lovers Paolo Malatesta and Francesca da Rimini, who were slain by Francesca's outraged husband.
Tracey Emin's works, painted on original bed sheets with Walpole Bay Hotel logo embroidery on them, are on display in the London Hayward Gallery. The Walpole Bay Hotel Museum, which was opened by Emin, is now home to a considerable collection of Emin Memorabilia. The hotel hosted Tracey's birthday parties for 10 years, was the location for her film, televised by BBC, and the book signing for Strangelands. She donated 8 auction items to raise funds for Walpole restoration projects.
Thanet: The area has many attractions to area – 26 miles of golden sandy beaches, award-winning restaurants, the mysterious subterranean Shell Grotto discovered in 1835 and thought to be a pagan temple dating back to Romans, Dickens's House Museum, 5 theatre, top international golf courses, boat trips offering seal watching and sea fishing, the 27-mile long Viking Trail for cyclists and walkers, the Powell-Cotton Museum at Quex House, to list just a few. Tourist information: visitthanet.co.uk
Walpole Bay Hotel Described as a "living museum" the hotel offers ambience of a bygone era with its uniformed maids, spacious lounges, flower decked veranda, Edwardian restaurant, snooker room and 1920s ballroom with its original sprung maple dance floor. The entire building features memorabilia and educational displays.
Walpole Bay Hotel, Fifth Avenue, Cliftonville, Margate, Kent CT9 2JJ
walpolebayhotel.co.uk
The Ambrette Restaurant, 44 King Street, Margate, Kent CT9 1QE
theambrette.co.uk