Mazda launches improved dealer used car programme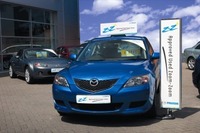 Mazda has radically revised and improved its Approved Used Car Programme bringing benefits to its franchise dealers and consumers from this month. Now called Mazda ZZ+ – the name builds on Mazda's established Zoom-Zoom brand strapline – the programme's relaunch coincides with the establishment of Mazda Remarketing Services – a major development designed to repatriate more ex-fleet vehicles into the marque's franchise network.
The customer benefits of the new ZZ+ programme include a Mazda multi-point pre-sale inspection, vehicle history, finance history and mileage check and a 12-month unlimited warranty. The ZZ+ programme goes further offering Pan-European breakdown roadside assistance, free seven-day drive-away insurance, a 30-day exchange promise, plus free Mazda Accident Management and advice in the event of an incident.
Each ZZ+ vehicle will be allocated a uniquely numbered vehicle authenticity hologram, which has both the UK and pan-European telephone numbers.
The three year paint and twelve year anti-corrosion warranties, supplied with all new Mazda cars are maintained during the ZZ+ warranty, if the car is regularly checked and serviced at a Mazda dealer. Additionally the supplying Mazda dealer can advise on Mazda Credit finance options as well as optional 24 and 36 month warranty extensions.
If the Mazda dealer does not have the exact Mazda car in stock to satisfy the customer's needs, the Mazda ZZ+ dealer will be able to use Mazda UK's new used car locator, Mazda Remarketing Service, to locate a used car from Mazda UK's own fleet.
The programme and striking new signage will be rolled out across the dealer network this summer. James Hopkins, fleet and remarketing director for Mazda UK said: "Historically, our dealers have been very new car focused. The relaunch of our new Approved Used Car Programme with a range of added value benefits is designed to attract increased business opportunities to all participating dealers."
Last year Mazda UK broke the 50,000 new vehicle sales barrier for the first time and official registration figures confirmed that over the last five years Mazda outgrew all other car brands in the UK. In the five years since 2001 when Mazda took over the business from the MCL Group, Mazda increased its annual sales volume by more than 35,000 units and achieved a growth rate of almost 250 per cent.
That demand is now seeing an increasing number of vehicles being defleeted, including a growing number of high-quality ex-company cars with full service histories.
Mr Hopkins explained: "As the profile of Mazda has grown in recent years so new and used car demand has increased. Our dealers are demanding more and more used Mazda vehicles to satisfy consumer demand so we have put in place initiatives to enable them to source vehicles more readily and then to capitalise on sales opportunities.
"By working in partnership with our major fleet customers, in the future we hope to be able to secure quality used vehicles for our dealers and their customers and ensure residual value strength remains as some Mazda cars will not be exposed to the vagaries of the disposal marketplace.
"By relaunching the Approved Used Car Programme with all the benefits of ZZ+, we not only ensure it is easier for our dealers to buy good quality used Mazdas, but we also have an excellent package which will enable our customers to buy these good quality used Mazda vehicles in complete confidence."