Avoid the forecasted snow and escape to a sunnier climate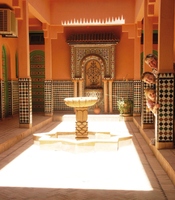 Families can shake off the early predictions of snow and book onto a sunny week of activities this October half term with the UK's leading family adventure specialist, The Adventure Company.
With snowfall predicted as early as October this year*, families may choose to swap the chills for a sunnier climate and, with availability on some of the family adventure specialist's most popular family trips, the school holiday offers a chance to enjoy all the perks of the summer without the drawbacks of peak season travel.
Make the most of half-term
Egypt: Feluccas & Pharaohs
This 10-day holiday is the perfect chance for families to journey back in time on a classic Egyptian adventure and stay out of the cold this winter. One of The Adventure Company's most popular trips for over 10 years, Feluccas & Pharaohs provides families with an educational holiday full of fun and discovery. From sailing on a felucca along the Nile and exploring the bazaars of Aswan to snorkelling over coral reefs, this is a well-paced trip taking in this great value destination's most awe-inspiring sights. For children aged five upwards.

Price: From £1259 adult / £1129 child includes flights (domestic and international), transport (train, minibus, felucca, horse-drawn carried, boat and camel), accommodation (7 nights hotel, 1 night train and 1 night felucca), most meals (8 breakfasts, 2 lunches and 5 dinners) and an experienced local leader.

Departures: 22 & 24 October
** Book before 5 October and save £100pp **
Inida: Tiger Trails & Taj Mahal
This 11-day trip is a chance for all the family to discover the majesty of India. The family adventure takes travellers around the Golden Triangle with the chance to spot elephants and cows in the streets, take a safari in search of endangered tigers and marvel at the famous Taj Mahal. The tour also takes in the Red Fort in Delhi, Agra Fort and a safari in Rathambore National Park in search of tigers, plus a stay in a former fortified palace. For children aged seven upwards.

Price: From £1309 adult / £1209 child including flights, accommodation (7 nights hotel and 2 nights lodge), most meals (9 breakfasts, 2 lunches & 3 dinners), transport (train, rickshaw, taxi 4WD and minibus) and an experienced local leader.

Departures: 19 & 22 October
Italy: Around the Bay of Naples
Families on this 8-day trip will take in the ruins of Pompeii, the majestic views from Vesuvius and the natural beauty of Capri as well as spending 3-days in an agriturismo – a traditional farm stay. Time at the working farm not only helps to make a positive impact locally but also gives holiday-makers a taste of a typical Italian rural life as it produces a number of specialities from olive oil to limoncello liquor. For children aged five upwards.

Price: From £1069 adult / £1029 child including flights, transport, B&B accommodation, 3 dinners and an experienced local leader.

Departure: 22 October
Morocco: Magical Morocco
A young child-friendly taste of exotic Morocco combining the vibrant city of Marrakech (including a horse-drawn calesh tour), the Atlas Mountains and the old pirate hideout of Essaouira. The 8-day holiday has been especially designed for families travelling with children under five to ensure they enjoy their first real adventure together. However, while offering a balanced itinerary between activity and relaxation to ensure young children aren't overloaded with too many sites, there is no upper age limit so older siblings can travel too. The walks, though not compulsory, have been designed for small children, with the option of exploring the local Berber villages by mule rather than foot for children in the mountains. Cots can be provided on request. For children aged two upwards.

Price: From £819 adult / £779 child including flights, B&B accommodation, 2 lunches, transport (minibus, mule & calesh) and an experienced local leader.

Departures: 20 October
Tanzania: Rift Valley Adventure

The ultimate 10-day family safari in Tanzania features game drives in the Serengeti, Ngorongoro Crater, Lake Natron and Lake Manyara. The tour is filled with chances to spot dozens of Africa's most famous wildlife species such zebra, giraffe, lion, cheetah, rhino, gazelle, leopard, elephant and wildebeest. For children aged eight upwards.

Price: From £1779 adult / £1429 child including flights, accommodation (1 night lodge and 6 nights camping), most meals (7 breakfasts, 6 lunches and 7 dinners), transport and an experienced local leader.

Departures: 21 October
To find out more about The Adventure Company's family holidays, visit adventurecompany.co.uk.

*Predictions made by James Madden at Exacta Weather - a non-profit weather organisation that comprises of a team of meteorologists from around the world who share and supply their data and research.